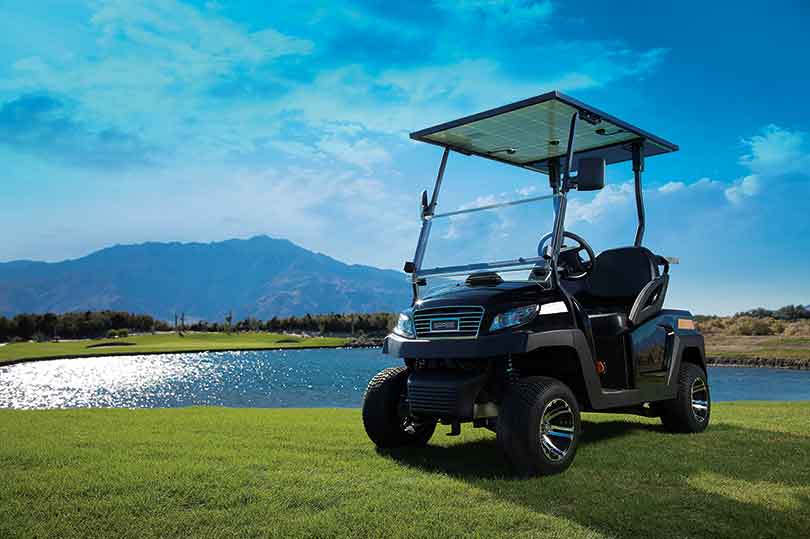 Triad Pro Innovators has confirmed that the first shipment of its new custom golf cart chassis assemblies has been shipped to Triad Pro's Phoenix assembly facility.
Fountain Valley, CA
Once the custom designed chassis arrive, the assembly of the first production model SPREE golf carts will be completed. The addition of the Triad Pro eCell & motor assemblies, solar panel roof, and other proprietary technologies will be added to result in a golf cart of superior technology and ease of use. The finished SPREE (Solar Powered Renewable Electric Energy) golf cars will redefine the economics of how golf carts operate. The paying of high monthly utility bills to recharge golf cart batteries can be greatly reduced, as SPREE continuously tops off its eCell by utilizing a solar panel embedded in the roof. SPREE's eCell technology requires no costly ongoing maintenance, and comes with a 10-year warranty on the eCell and a 1-year drive train warranty.
Global consumption of golf carts is anticipated to exceed 225,000 units in 2023, in a multi-billion dollar industry, valued at U.S. $2,300,000,000, of which 41% will be in the North American market. Triad Pro projects attaining approximately $70,000,000 worldwide sales of traditional golf and people mover vehicles by the end of its third production year. This dynamic growth is due to the advantages of utilizing solar power. For additional information about Triad Pro Innovators visit the website at: triadproinc.com.