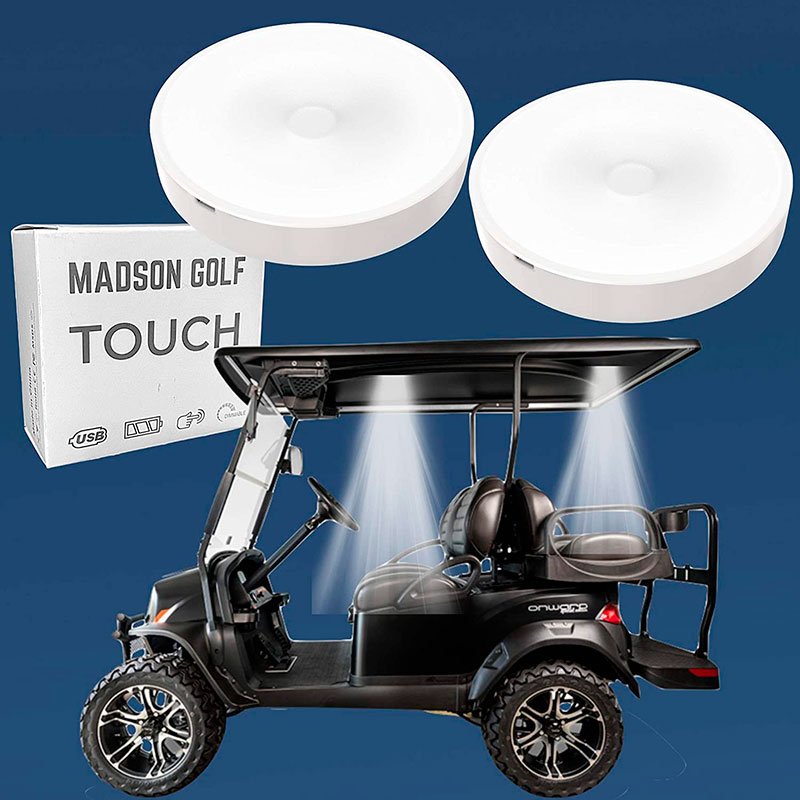 Universal Golf Cart Roof One-Touch LED Light by Madson Golf.
Their touch dome lights have zero switches or buttons. One short touch to the center of the light for ON/OFF, long touch for brighter and dimmer, and the LED remembers your last brightness setting, no need to adjust every time, making it super safe to operate the light while driving the car. Simply press and hold for 60 seconds the included triple strength 3M adhesive pad to any plastic, metal or glass surface. The upgraded 3M tape was specifically chosen to support the weight of its light for a ceiling mount in a moving golf cart. It lasts up to seven hours in full brightness and much longer when dimming is engaged. Super Bright LEDs in high settings produce 80 lumens and last up to 20,000 hours. This golf cart LED light is a lifesaver. You will discover operating a golf cart at dusk or nighttime is a lot safer with a dimmable interior push light. What's included? Two golf cart specific LED lights and two triple strength 3M adhesive pads with Hook-n-Loop back.
---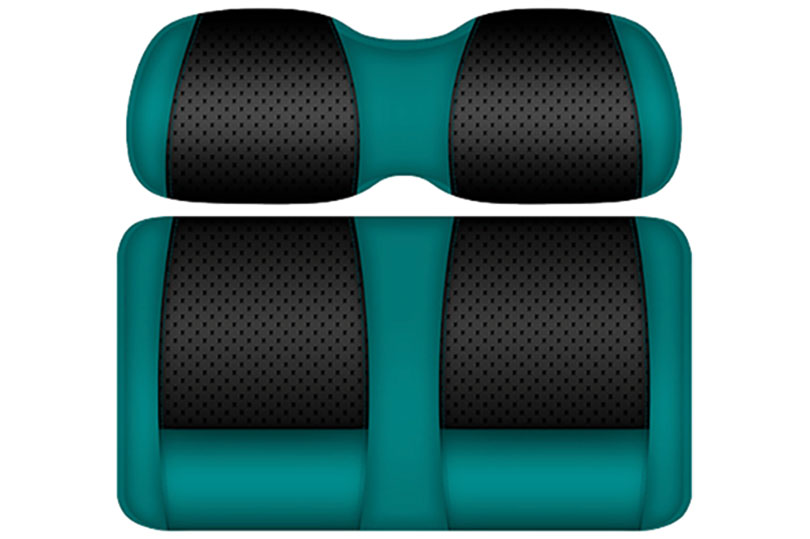 Golf Cart Clubhouse Front Cushion Set by DoubleTake, available at doubletakegolfcart.com.
We know that when it comes to your golf car, looks matter. Completely transform your golf car with DoubleTake's complete color-match system, available in a wide variety of vibrant colors. From body sets, dashes, seats, tops (and more) your cart will be the talk of the town. Proudly made in the USA, DoubleTake parts and accessories are preconfigured and engineered to fit each major cart type, making them easy to install. These simple yet sophisticated designed seats, with a vibrant color outside and perforated inside panel, are made with marine grade vinyl that resists moisture and offers UV protection. They arrive pre-covered over thick molded foam cushions that provide comfort and support, making for an easy install. It includes: Front seat cushion set (bottom and back seat cushions).
---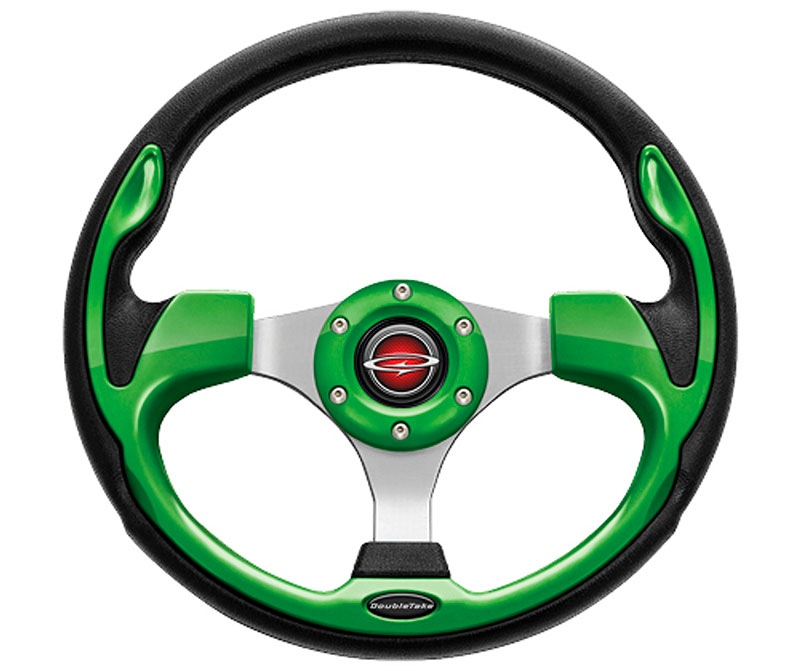 Lime Green Pilot Golf Cart Steering Wheel and Adapter by DoubleTake, available at doubletakegolfcart.com.
Add a splash of color and class to your golf car with a DoubleTake Lime Pilot steering wheel. Change out the inserts in the future to any one of 11 colors. Available for Club Car, E-Z-GO and Yamaha. It also comes complete with mounting hardware and car model specific adapter hub in choice of chrome or black finish.
---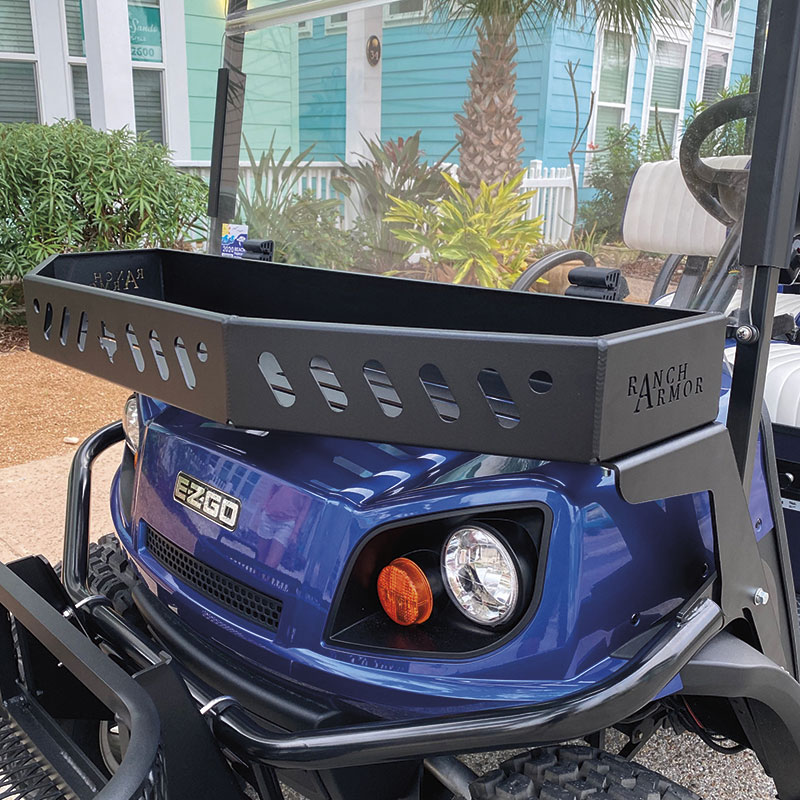 E-Z-GO Golf Cart Front Hood Basket by Ranch Armor, available at rancharmorutv.com.
The Ranch Armor front storage basket for EZ GO Golf Carts is the perfect addition to your golf car. This rack is made of light-weight aluminum and offers plenty of storage space up front. Ranch Armor products are 100% built in Texas; Ranch Armor will never outsource.
---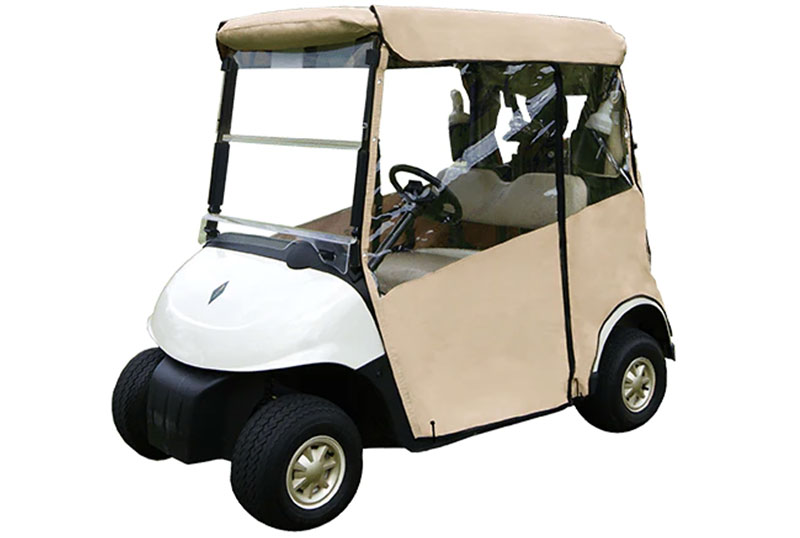 3-Sided Golf Cart Enclosure by DoorWorks®, available at doorworksenclosures.com.
For a vinyl enclosure that's both easy to install and guaranteed to keep your people and cargo safe from the elements, check out this 3-sided enclosure by the industry leader DoorWorks®. The heavy rains, harsh winds and relentless sun can take a toll on your cart and your skin. Keep it all protected and your comfort levels at an all time high with this user-friendly on/off enclosure. Available for either a standard golf car configuration or a rear facing seat / utility box configuration, simply choose your make, model, and color preference and you'll be comfortable in no time. Features include: Ultra clear windows, upper WindSeal protection, dual U-shaped zipper access to golf clubs and lower golf bag compartments, reinforced adjustable hooks for no-flap fit, Marine-Grade, UV Resistant vinyl material and straight-back designs available for each car model – perfect for utility boxes or rear facing seats.
---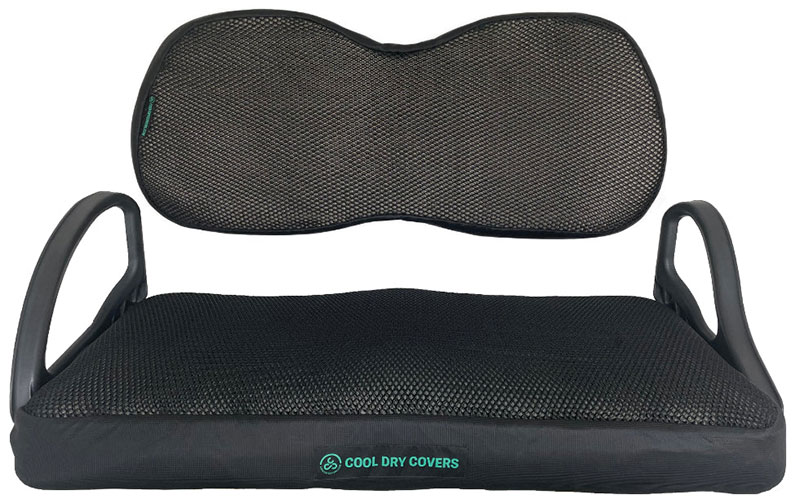 Club Car Tempo and Onward Covers Set by Cool Dry Covers, available at cooldrycovers.com.
Maximize your comfort with a new set of Cool Dry Covers specifically sized to fit your Club Car Tempo and Club Car Onward golf cart with plush seats. No longer burn on a hot seat, soak in a pool of water or suffer from a hard, unforgiving ride. With their unique 3-dimensional mesh fabric, Cool Dry Covers provide a cushioning layer which allows air circulation and water dispersion, delivering year-round comfort in all conditions. Installation is a breeze, and their specific sizing and elasticized edging mean you won't be sliding around from a poor fitting set of covers. They're great for covering up damaged and tired seats or adding a level of protection to those you want to preserve.
---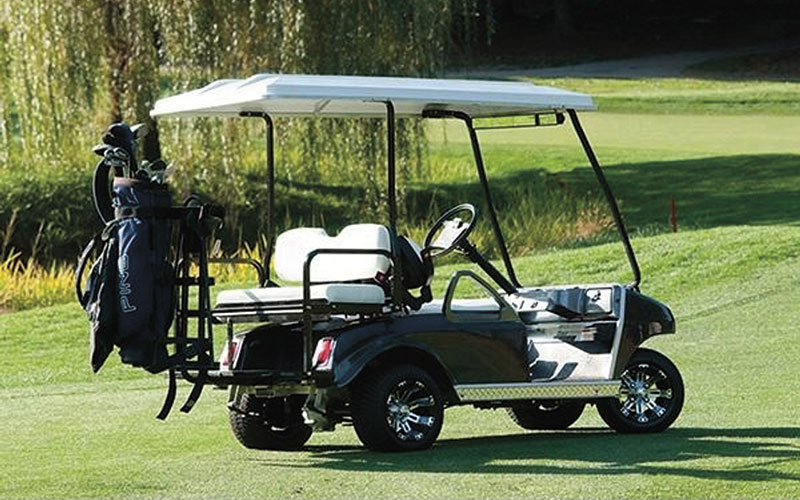 Golf Cart Rear Seat Golf Bag Attachment by Red Hawk, available at redhawk.goftcarts.com.
Fit multiple passengers and additional baggage? It's possible with this Red Hawk golf cart rear seat golf bag attachment can carry two golf bags and four passengers. It easily mounts to the safety grab bar. Plus, it'll last for years due to its rugged, rust-proof steel. Now, you won't need drag your bags alongside the cart or pay extra for a caddy. This convenient attachment fits all SEAT-691 and SEAT 688/A safety grab bars. (Note: Safety grab bar is required and not included.) Plus, it's compatible with RHOX 300, 400 and 700 Series Seat Kits. And you can use it with either a gas or electric golf car. It's important to note that drilling is required.
---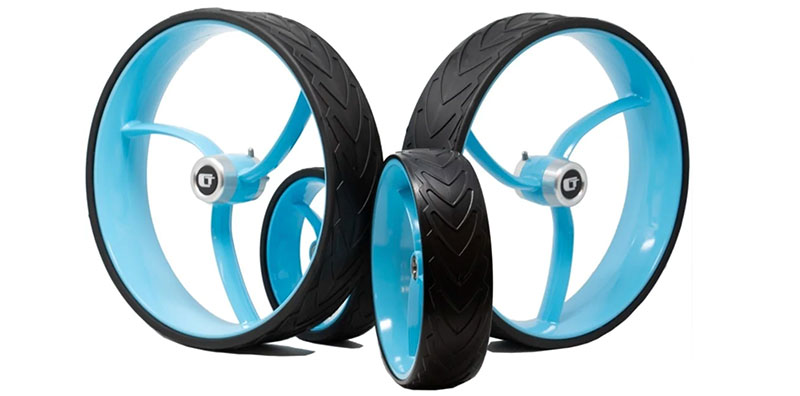 1500Li/LTD V2 Wheels by Cart Tek, available at carttek.com.
You've seen the brightly colored golfing apparel. Now that's available for your GRi-1500Li Car! Dress up your remote caddie with this golf pull cart wheel replacement set. The brand new design has billet aluminum wheel hubs for durability, and replaceable, interlocking tire treads. This wheel design is greatly improved upon over the original.