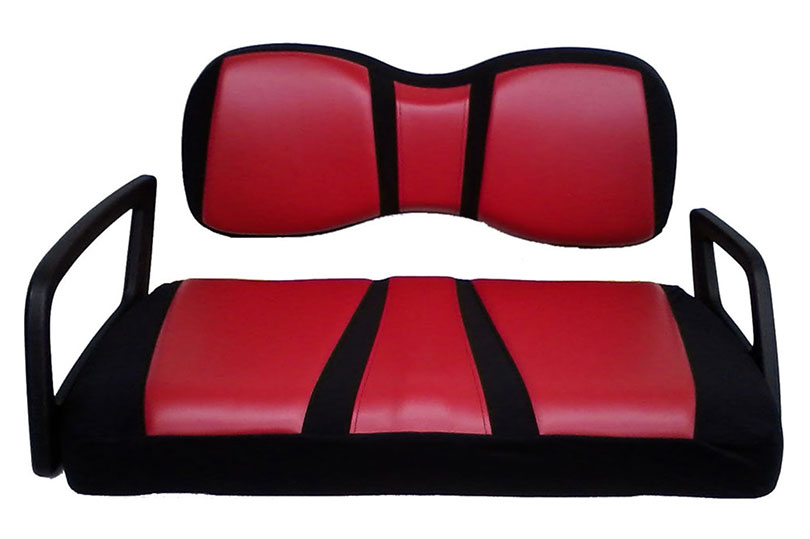 Golf Car Seat Cover
by Back Spin Seating, available at backspinseating.com.
With over 20 years of seat manufacturing experience, Back Spin Seating makes covers for all sorts of businesses that require comfortable seating. When it came to the golf car business, they knew they wanted to offer high-end, customizable seating options. These slip-on covers fit Yamaha Golf Carts 2007 and up. They come in six color choices as well.
---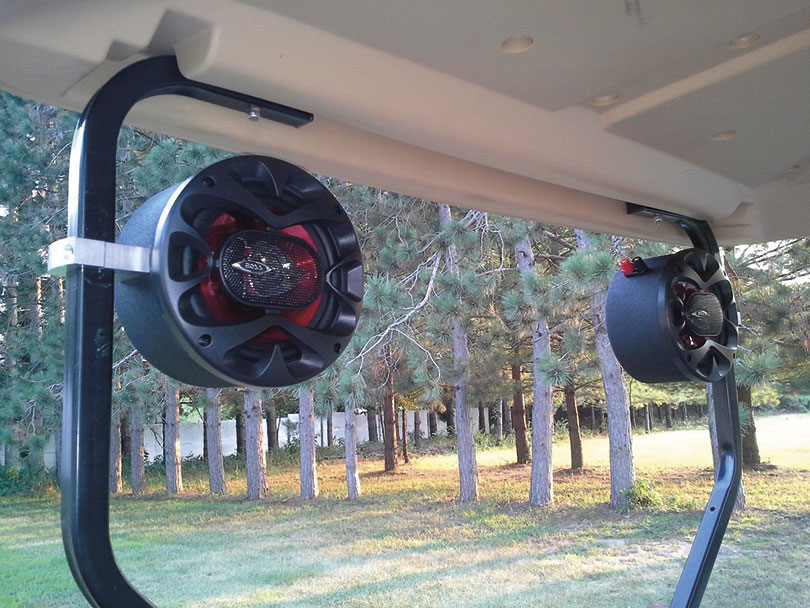 Golf Cart Speakers and Car Radio Stereo Pods Enclosures
by Thunder Buckets, available at thunderbucketsaudio.com.
These speaker pods are equipped with 3000w of power each and measure to 6.5 inches. The black textured finish and durable poly-vinyl material will keep them from oxidizing or denting and will be able to withstand all the elements. The pods have the right amount of poly-fill to help with mid-range sounds, rocking treble or deep, rich bass. The clamp works with E-Z-GO, Club Car or any 1″ square tubing. Plus, installation is quick and easy.
---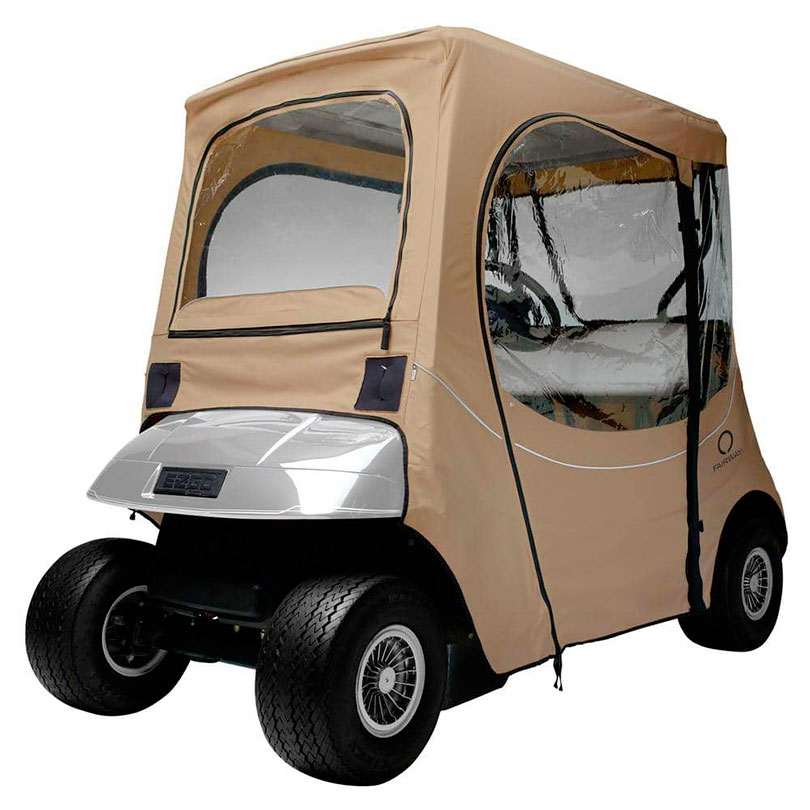 FadeSafe E-Z-GO Khaki Golf Car Enclosure
by Classic Accessories, available at classicaccessories.com.
Get full protection against wind and weather for your E-Z-GO car with this FadeSafe enclosure by Classic Accessories. It fits over the roof and secures with hooks on the bottom. Adjust easily to any weather condition with the zippered doors and panels. The quick zip-off windshield stores in the front pocket and the doors can be rolled back or completely removed – it's all up to you. Not only that, but it features super-clear window material with heavy-duty polyester walls and top.
---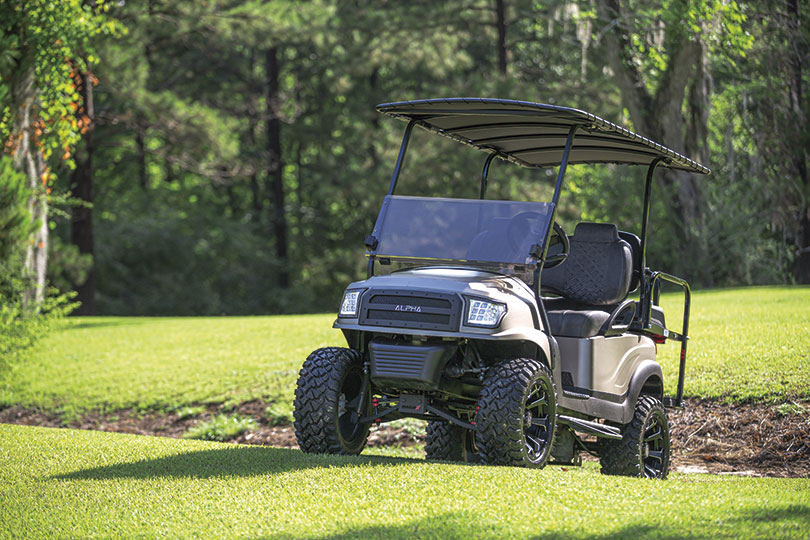 King Bolt XD
by MadJax, available at madjax.com.
The King XD lift kit series is the latest offering from MadJax, providing a reliable and comfortable ride to the driver. Installation times are reduced by up to 25%, and adjusting the camber/toe during the install has never been easier with our turnbuckle and jam nut design. The Kingpin replaces traditional heim joints, providing a more simple and durable lift kit. The kit guarantees faster installation times and features turnbuckle style camber adjustment for more efficient tire setting, reliable kingpin design, pre-assembled and pre-greased lower main frame and durable urethane bushings. It is available in both 4″ and 6″ ride heights.
---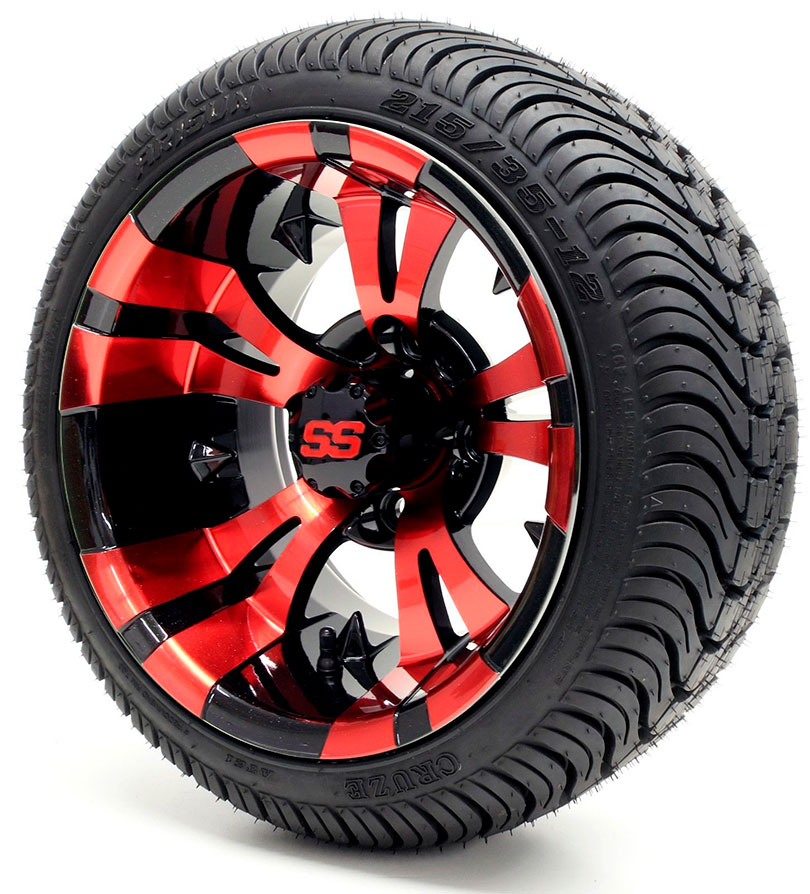 Golf Cart Wheels and Tires
by Golf Cart King, available at golfcartking.com.
For those who like to maintain their golf cars or want to keep improving them, it's likely you've bought a part from Golf Cart King. The wheels measure to 12 inches. The Vampire SS style features a multi-spoke design and the finish is in black and red. It is the perfect addition to enhance any Yamaha, Club Car or E-Z-GO vehicle.
---
Sentry Dash
by DoubleTake, available at doubletake.com.
DoubleTake specializes in customizing your ride to make it fit your personality and style. That's why this dash is no different – they even make products to match the rest of the car so it's seamless and cohesive. On that note, the base color can be your choice of black or sand and the accents are offered in a wide variety of colors. In addition to style, the functionality is subpar as it provides secure storage with a top-loading bin for easy access. It's also made from high-impact ABS-acrylic plastic and fits all Club Car Precedent, Tempo and Onward gas and electric models (2004 and up).
---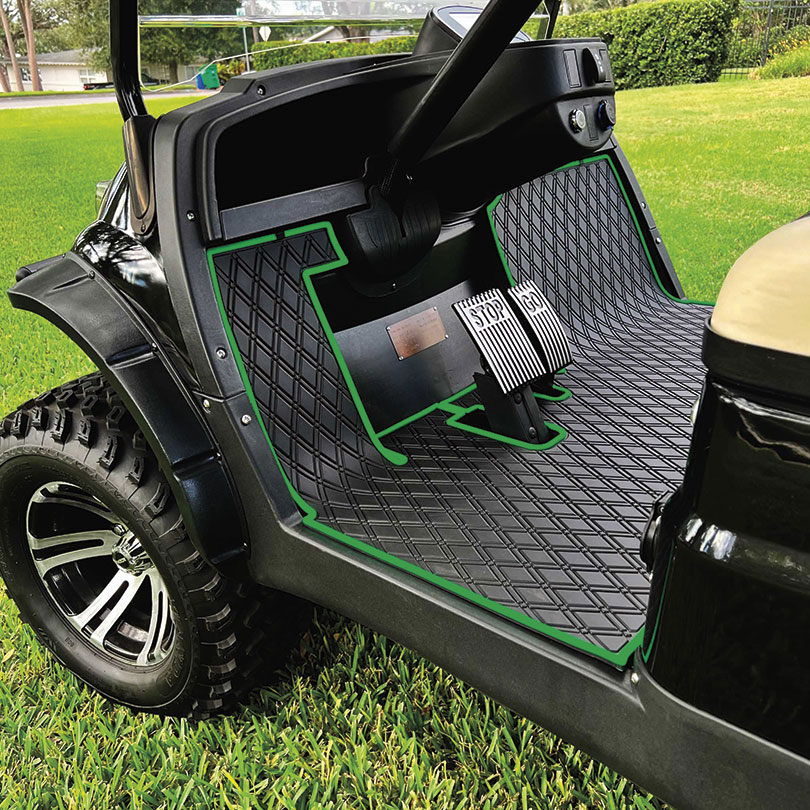 Full-Coverage Floor Mat
by Xtreme Mats, available at xtrememats.com.
These full-coverage floor mats will floor you. With their water resistant material and heavy duty 8mm rubber, it protects factory flooring from the dash down to the base of the seat and it will not slide around or become dislodged. They use a state-of-the-art laser-measuring system to fit snug in your cart around the pedals and seat base. In addition, the patented design of the mat and custom Xtreme Clips retain the mat in place like no other. The trim colors are available in beige, green, red, blue, grey and black and measures at 34.3 × 6.3 × 6.2 inches.
---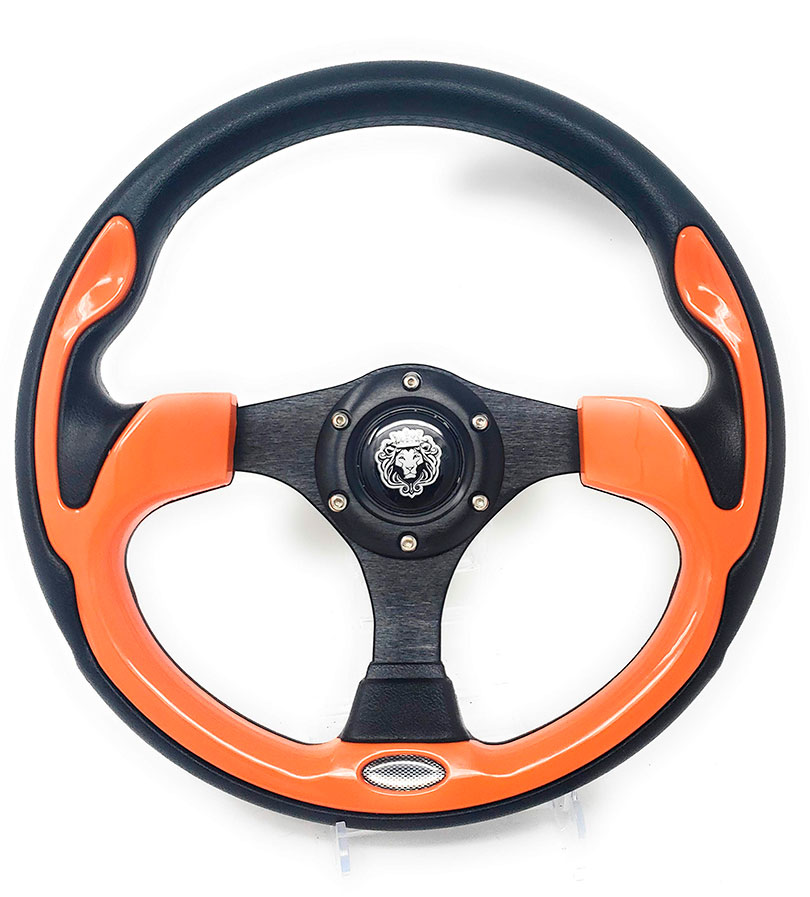 Steering Wheel
by New World Motoring, available at newworldmotoring.com.
This steering wheel by New World Motoring provides the ultimate in driving experience. It features black adapter, highly ergonomic grip, brushed aluminum with a finish three-spoke and has a beautiful shade of orange. In addition, it measures to 12.5 inches and fits all Yamaha Golf Carts 1979 to current models and 2004 to 2010 models of Polaris Rhino (excluding sport edition).