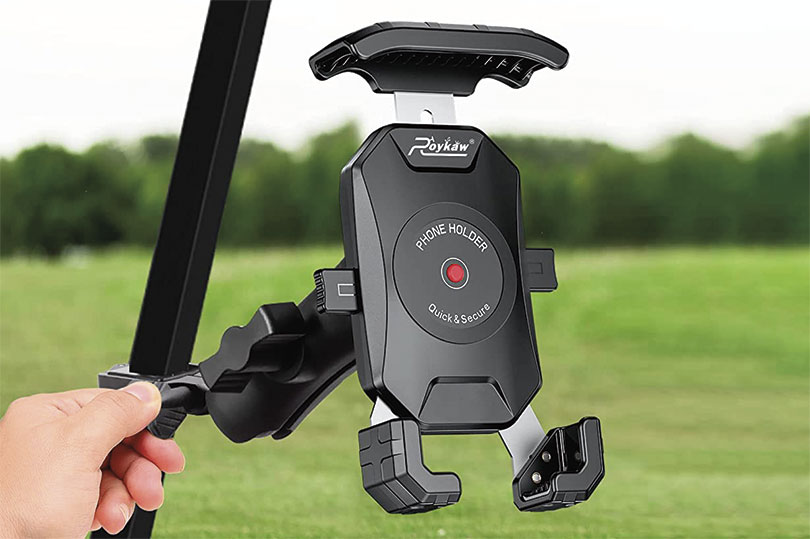 1. Golf Cart Phone Mount Holder by Roykaw.
When you need to look at your phone without compromising your driving – you'll need this phone holder. It is compatible with iPhones, Samsung Galaxy, Motorola and Google Pixel. The innovative screw with knob replaces previous allen wrench which makes it easier to remove the phone holder. It can be attached to most models: E-Z-GO TXT/RXV, Club Car DS/Precedent, Yamaha and more. The phone will secured and will not fall out as it is locked to the frame of the golf car – this also guarantees no shaking or rattling. The mount can also be rotated 360 degrees.
---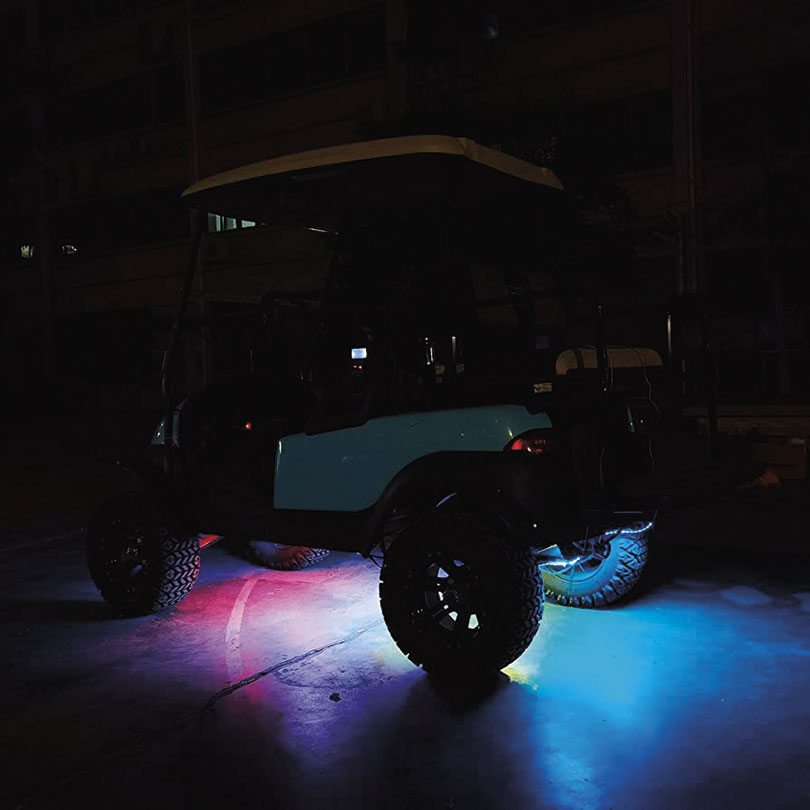 2. Golf Cart Underglow LED Light Strip Kit by 10L0L.
The perfect way to spruce up your car without going the extra mile financially. The neon underglow LED lights kits by 10L0L fits E-Z-GO, Club Car, Yamaha and most other golf cars. These are perfect for decorating around the holidays as well. It comes with 24 modes: seven solid colors, seven color fades, six colorful fade/flow, three colorful cyclic (flash/chase/strobe) and one music sync. The solid colors are: red, blue, green, purple, light blue, yellow and white. It also features a wireless remote control to switch between modes during your ride seamlessly. It includes a 12-66V powered control box, connect to 12V-66V batteries without any voltage converter reducer. In addition, it's easy to install because they are flexible strips that can bend to any shape and attached to under body of car, the trunk or roof.
---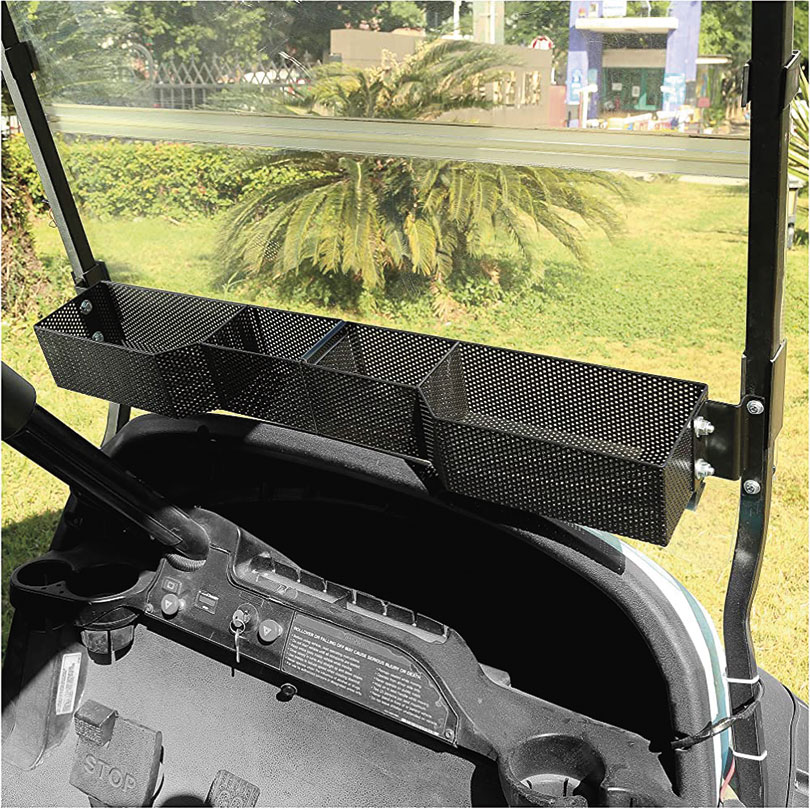 3. Inner Front Basket Dash Storage/Tray Organizer by 10L0L.
Storage to carry your belongings within arms reach and you can keep an eye on them while you drive or are stationary – that's a win-win. It comes in standard size and fits Club Car DS and Precedent. The dash storage organize is sturdy and durable and features a high gloss black pwder coating for a long-lasting look. It easily attaches to the frame on the inside of the car.
---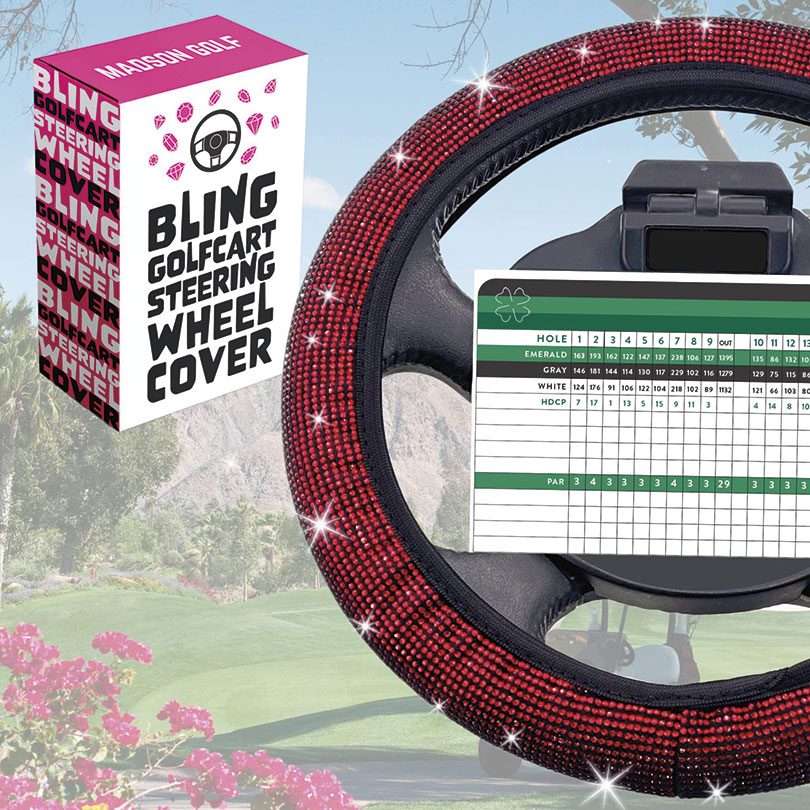 4. Universal Colorful Bling Crystal Diamond Rhinestones Golf Cart Steering Wheel Cover by Madson Golf.
Need to add a little bling to your car? This is a great and easy way to do so. Containing hundreds of shining rhinestones, you're sure to make an impression. This Madson Golf Bling Steering Wheel Cover fits most steering wheels with 13 to 14 inches in diameter. It's suitable for standard golf cart OEM steering wheels, such as E-Z-GO RXV/TXT, Yamaha and Club Car Precedent. To install it, all you have to do it slip it right onto the wheel. The cover features high-quality rubber on either side to tighten and make sure the grip never loosens. They are also environmentally friendly.
---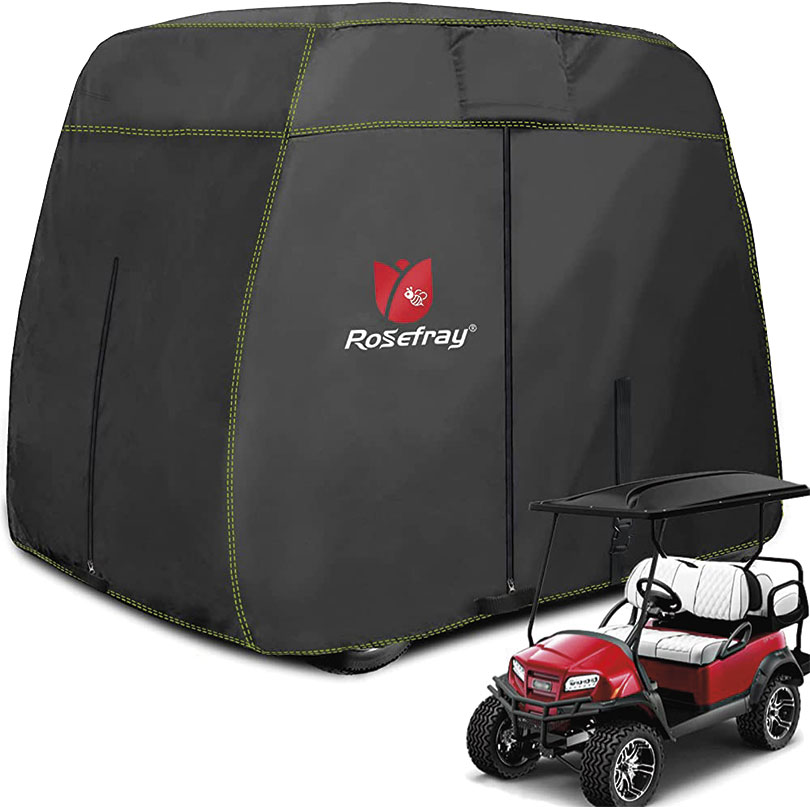 5. Waterproof Golf Cart Cover by Rosefray.
This high-quality fabric cover by Rosefray has an inner silver coating that can effectively block UV rays. Plus, the color doesn't fade when sitting in the sun for long hours. It is easy to install (just takes one person) and is lightweight at only 4.4 pounds. It measures to 112″L × 48″W × 66″H and is suitable for most brands of four-passanger golf cars with extended roof of up to 80″ (this includes Yamaha, Honda, Club Car and E-Z-GO). It also has an upgraded waterproof function with two high-quality waterproof zippers, using double stitching and waterproof adhesive tapes to the seams.The adjustable hem cord at the bottom makes the cover fit more closely to the cart. With the windproof buckle at the bottom, the cover won't be blown away by the storm. The air vents can effectively dissipate heat and drain water. The unique reflective strip makes your golf cart recognizable even at night.
---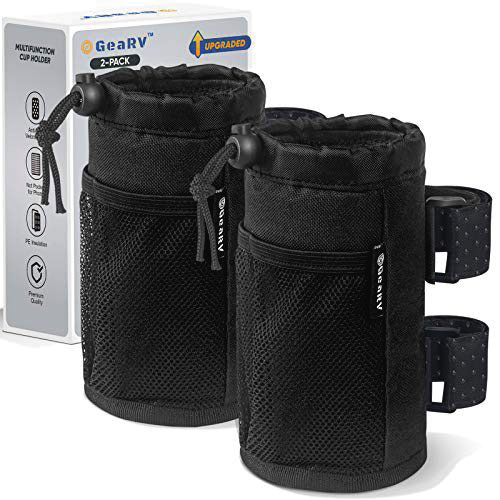 6. Two-Pack Water Bottle Holder by GEARV.
Every golf car needs a place for a cup or water bottle. This two-pack by GEARV is universal and can be attached to anything with a 1.5″ to 2.3″ diameter roll bar. It features adjustable Velcro straps that are reinforced to hold the cup holder tight for a tough road. Not only that, it can also be used to hold a cell phone, wall charger and anything that fits. It is also collapsible and includes a waterproof and thermal insulation layer. It measures to about 7″ high and 3.3″ in diameter.
---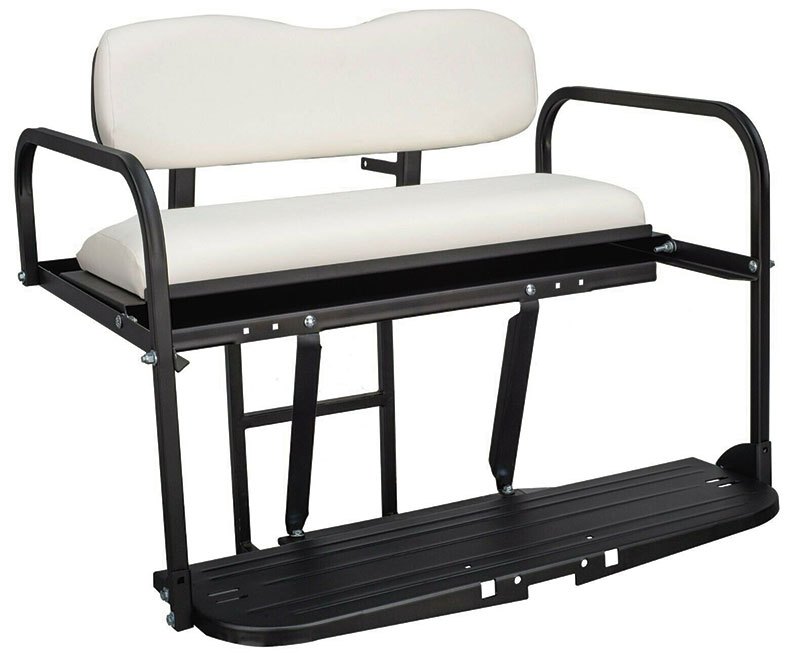 7. Club Car DS Golf Car Flip Folding Rear Back Seat Kit by Gusto™.
This rear seat kit by Gusto comes in white and is sure to elevate your look. It fits the Club Car DS carts and features a single stamped foot plate to prevent rusting (no welds). There are integrated seat belt tabs and cargo strap holes. The seat back is plastic and doesn't contain wood (which means no rotting). The steel is finished in textured powder and coated black.