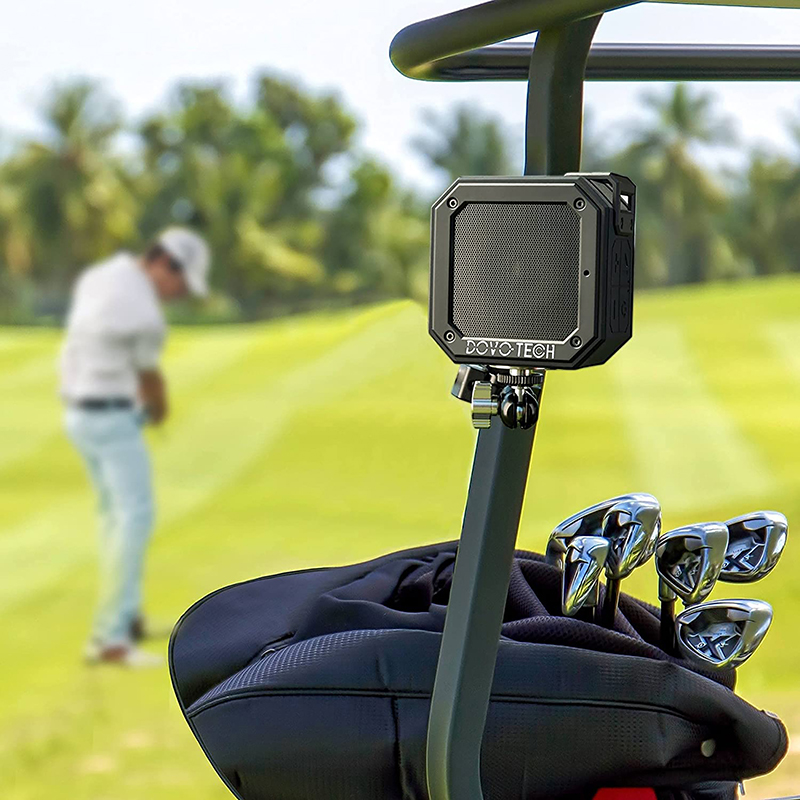 1. Portable Golf Car Speaker
by Dovotech, available at dovotech.com.
This portable speaker provides clear sound and extra bass for the ultimate ride experience. It also has a 360 degree multi-directional audio swivel and is easy to connect and listen to via Bluetooth. Features include an extended battery life of 16 hours, crisp stereo and bass boost, it's waterproof and shockproof and a stainless steel bar mount that will be mounted securely and won't break.
---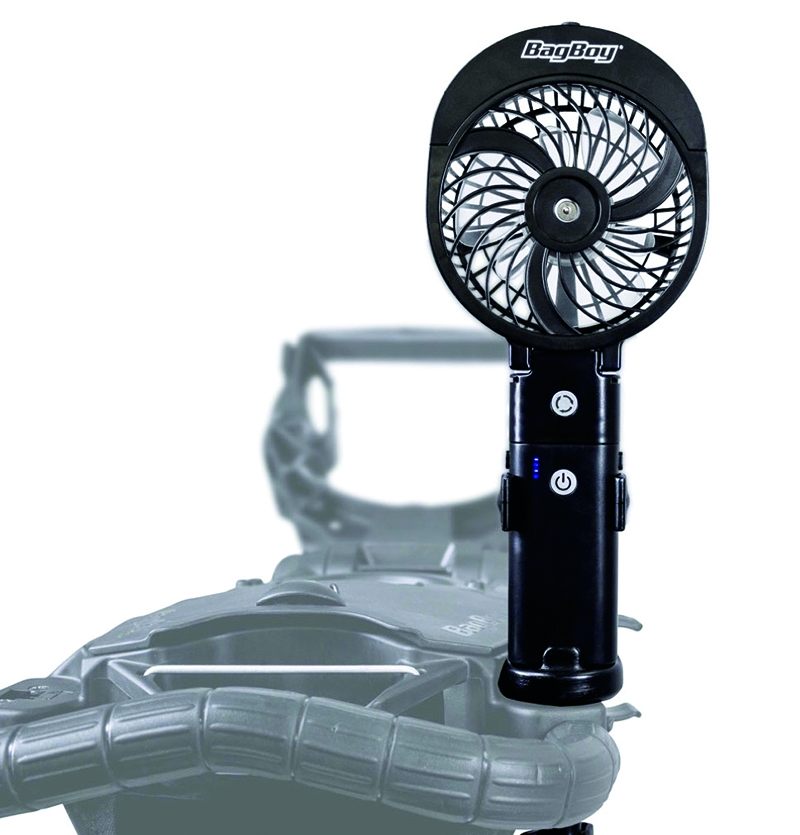 2. 3-in-1 Fan Kit
by Bag Boy, available at bagboy.com.
In addition to refreshing, cold drinks to keep you cool on a hot day – why not keep cool with this three-in-one fan kit that features a powerful three-speed fan with two-inch blades, an on/off water misting option (game changer) and a detachable 4000 mAh portable battery charger bank. This bank will power any USB-device. It includes a universal adapter clip and USB charging cable which allows accessories to be used with virtually any make/model push/riding cart, boat, stroller or device with tubular construction. Plus, it has over five hours of battery life (depending on the speed setting).
---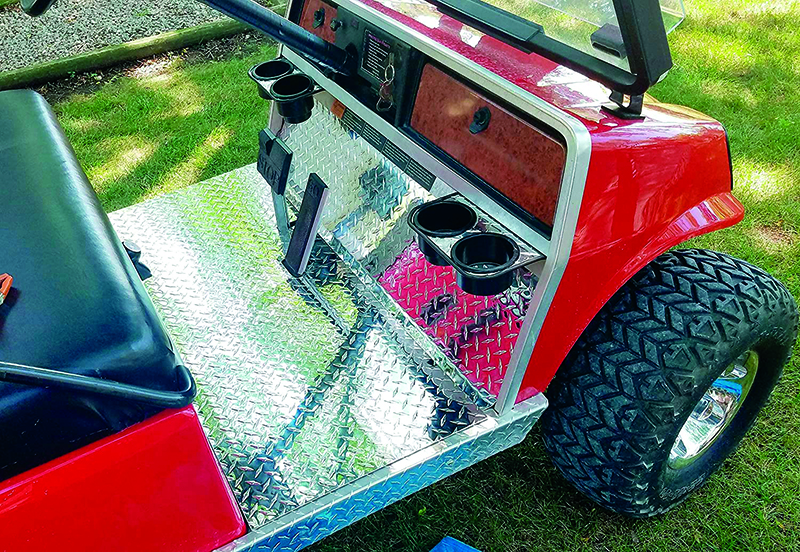 3. Polished Aluminum Diamond Plate for the Upper Floor
by J & O Carts Parts, available at jocartsparts.com.
Make your car look clean and mean with this position diamond plate floor on or over a rubber floor mat for the best fit and look. The plate can be easily installed with rivets or stainless steal self-tapping screws. It fits Club Car DS 1982 and up and made with 3003 highly polished aluminum diamond plate in the USA.
---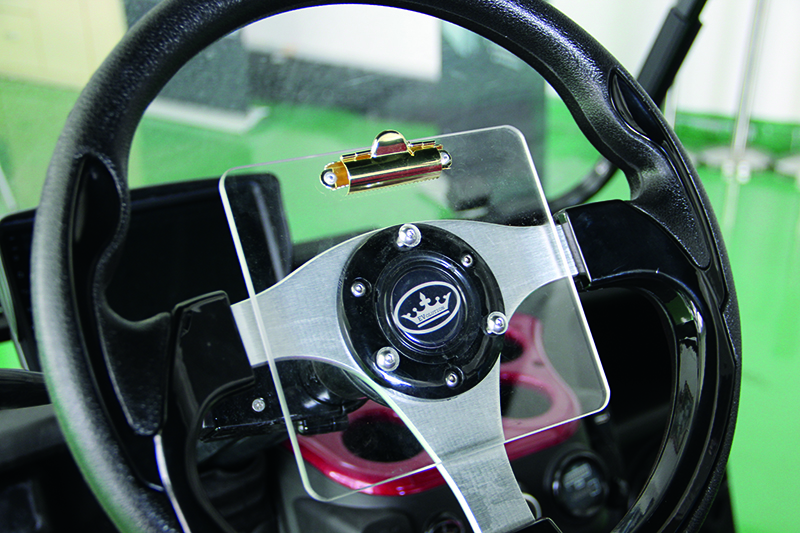 4. Clipboard for Scorecard
by Evolution EV, available at evolutionelectricvehicle.com.
Never lose or fumble around to look for your scorecard again with this clipboard that attaches to your steering wheel. You'll have full access and visibility to the card at all times so you won't have to waste any time looking for it.
---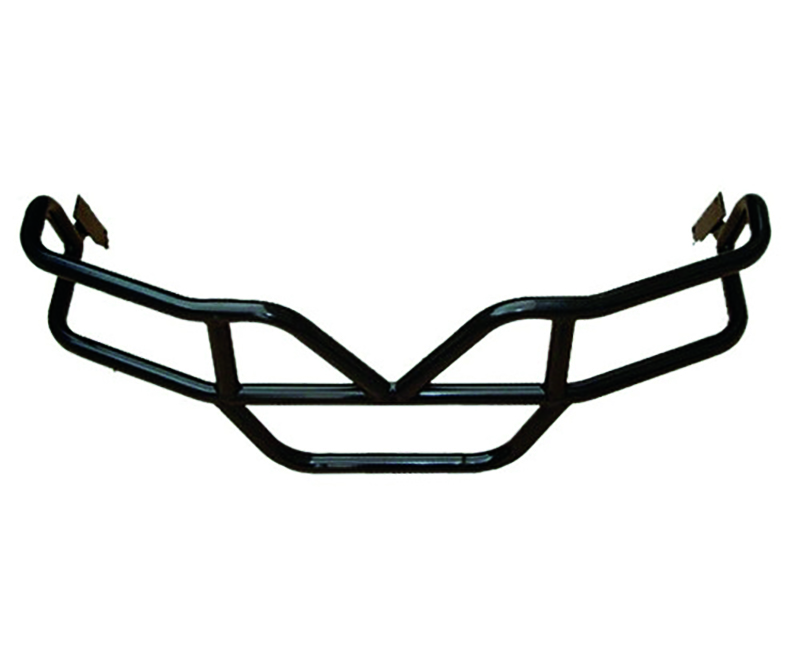 5. TXT Brushguard
by MadJax®, available at madjax.com.
MadJax® TXT Brush Guard has a modern, off-road design in a durable, armor coat finish, provides a practical solution for enhanced styling and protection.
---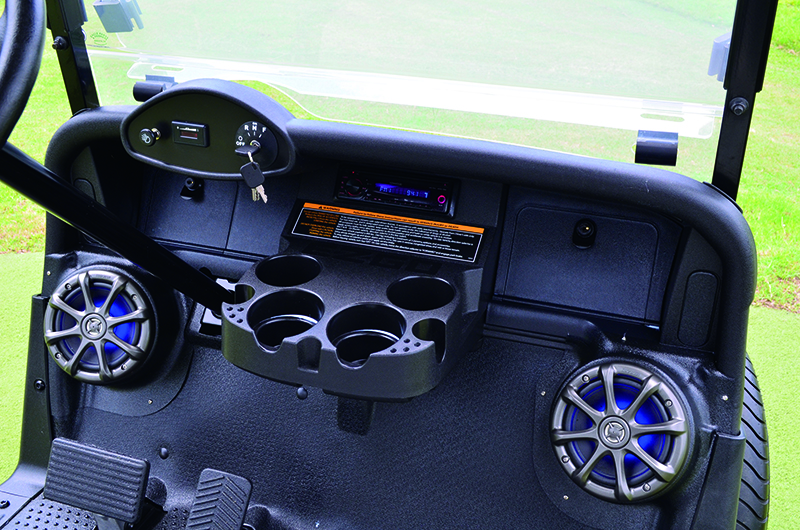 6. Audio Systems
by NasCarts, available at nascarts.com.
Your audio shouldn't have to be compromised – especially when you're riding around the car you're proud of. They can install CD/audio/AM/FM radio systems to add extra entertainment to your experience.
---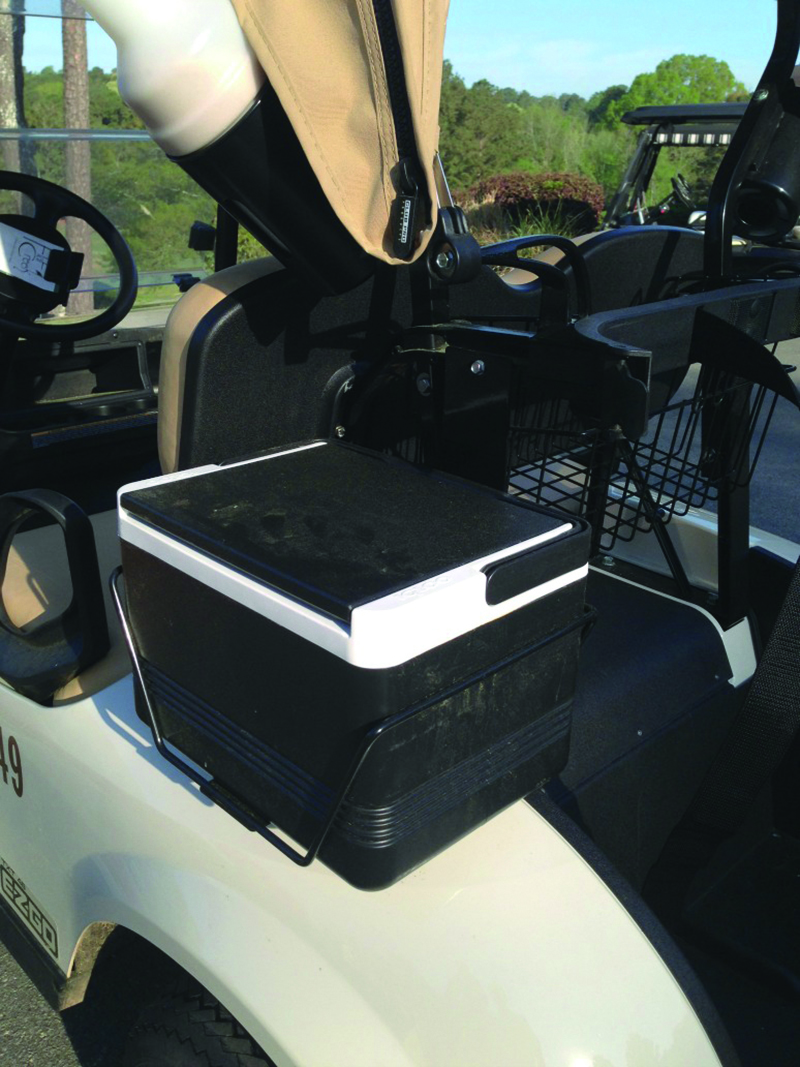 7. Golf Cart Cooler
by Golf Carts Etc., available at golf-carts-etc.com.
Keep your drinks cool and fresh with this golf car cooler. They can be used as bags you can carry and it attaches to your ride. It actually fits onto the front of the cowl. These are great to keep yourself feeling hydrated and cool for those hot days on the green.
---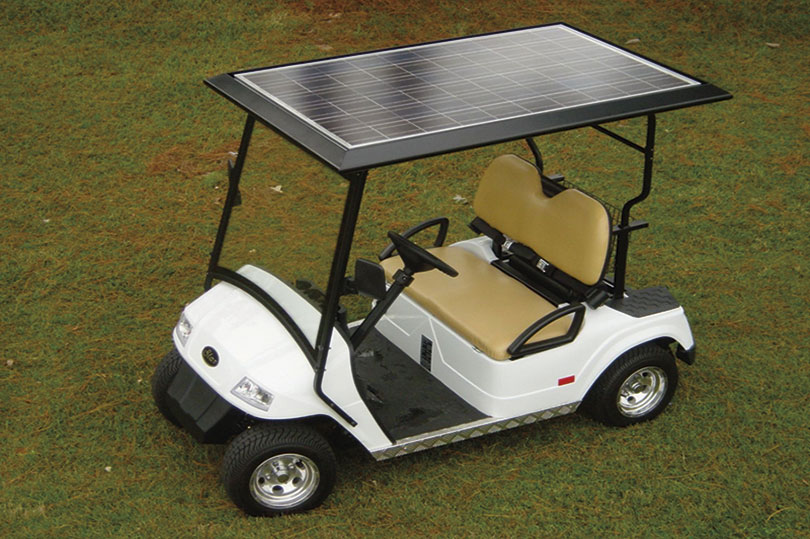 8. Solar Panel for Golf Car Top
by Solar Electric Systems, available at frugaldougalsgolf.com.
You can do your part of protecting the environment by converting your car to solar power. This 250-watt panel converts sunlight directly to electricity which charges the battery bank – not a bad investment if you ask us. Not only that but, depending on location, time of year, and driving conditions, the 250 watt top will extend your driving time 4-12 miles per day. It is best for locations that don't have easy access to electricity such as campgrounds, farms, hunting areas and islands. The golf cart solar panel charging kit is designed by researchers from the University of Florida and is manufactured in the USA. Fits most golf cart makes and models, including the new Club Car Precedent, E-Z-GO RXV and Yamaha Drive. Also converts to solar power Bad Boy Buggies, Zone and Star Car golf carts.
---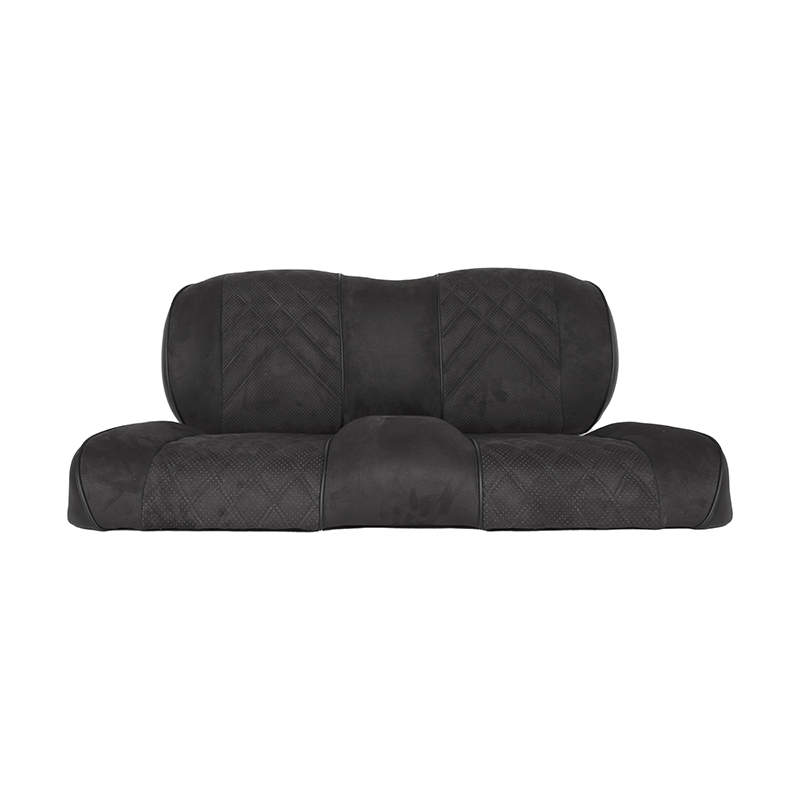 9. Premium Seats Suede
by RedDot, available at nivelparts.com.
The RedDot Suede Premium Seat brings a premium automotive inspired design to golf cars. The suede material helps to regulates temperature in both hot and cold conditions. These seats fit the EZGO TXT and RXV, and matching rear seats for the GTW Mach3 and MadJax Genesis 250/300 seat kits are also available.
---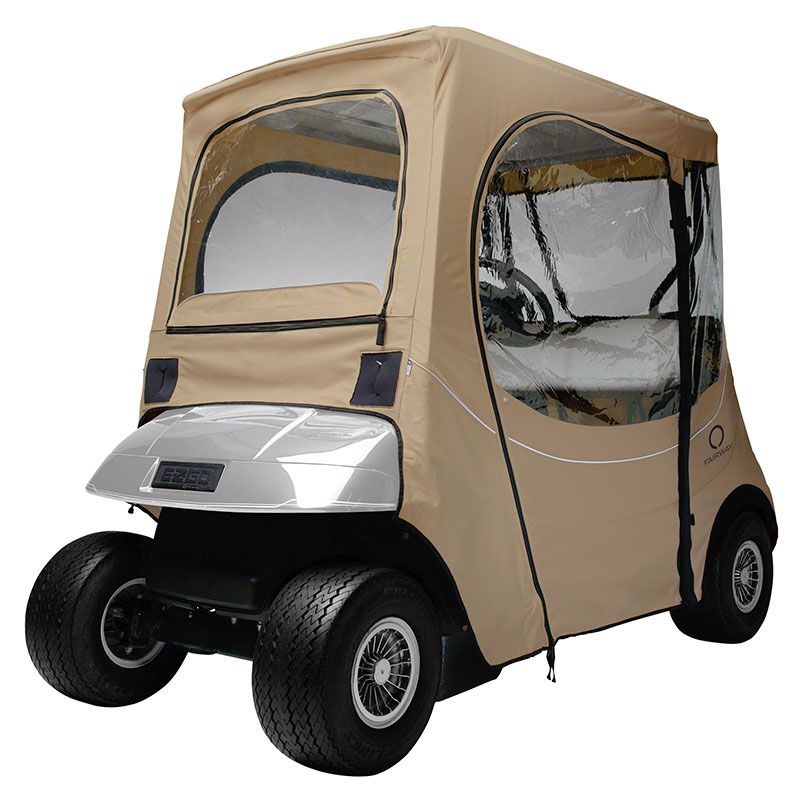 10. The FadeSafe Club Car Precedent Golf Cart Enclosure
by Classic Accessories, available at classicaccessories.com.
This enclosure provides a custom fit for Club Car Precedent two and four-person carts with the roof measuring 59" in length. The FadeSafe solution-dyed fabric significantly reduces sun bleaching. The benefits of an enclosure include keeping your carts clean and dry and protects against weather and wind. It fits over the roof and is secured with hooks on the bottom, it comes with a quick zip-off windshield that is stored in the front pocket and the doors can be rolled back or completely removed.