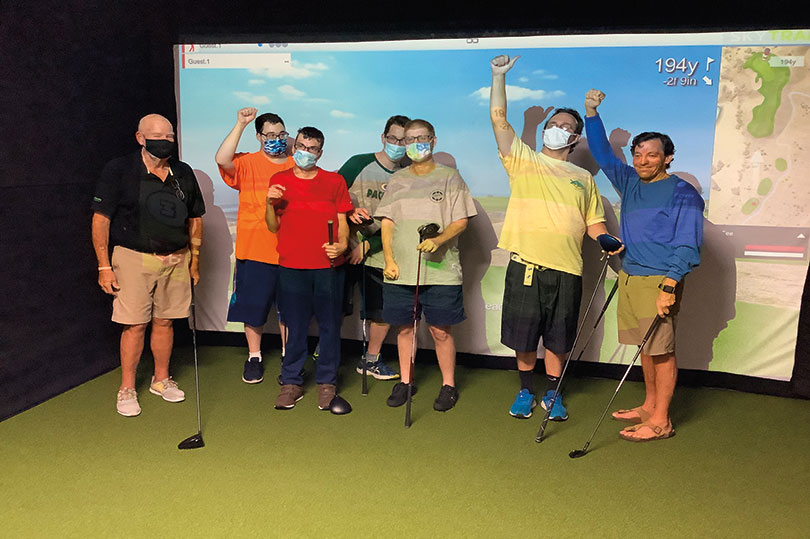 Simply Golf's purpose is driven by being a leader in making golf fun for everyone.
To make GOLF accessability a reality, Fort Lauderdale, Fla.-area golf instruction and simulation organization Simply Golf has pledged to support deserving non-profit organizations with its Genesis Program. To give back to the game of golf, they are allocating 10% of their time slots to organizations that can enrich the lives of their members free of charge.
Recently, Special Olympics and North Broward Preparatory School joined the initiative. Simply Golf staff instructor Bob Gaudio is working with the participants from Special Olympics to teach them basic golf fundamentals while providing a positive, fun environment. Another Simply Golf staffer, A. Lee Wilson, works with the North Broward Preparatory School boys and girls teams. North Broward Preparatory School's golf coach Ross Devonport had this to say about his team's experience: "Girls had a great time. A. Lee was a stellar host, and I look forward to the girls returning next month. They all seemed to have a blast."
Simply Golf owners Gary, Janice and Randy Palis, avid golfers themselves, stated, "even though Simply Golf has only been around for a few years, we feel part of the community, especially when it comes to golf. We also feel obligated to do our part to grow the game and provide an opportunity for all golfers regardless of the challenge, age or skill level. Partnering with such great organizations as Special Olympics and the North Broward Preparatory School allows us to do our part. We look forward to making more friendships through our Genesis Program in the future."
Simply Golf has also got involved in the community by participating in golf outings supporting organizations like The Rotary and Kiwanis Clubs. At these events, they have taken the opportunity to provide technology for all participants to take part in.
People in the Fort Lauderdale/South Florida area can email info@simplygolf.golf or call 734-673-7075 for more information and to register your organization.