If it's this year's top parts and accessories for golf cars you're looking for, you're in the right place.
1. Phone Caddy by Stenten's Golf Cart Accessories available at stenten.com.
Similar to a car phone mount, the phone caddy helps you keep your phone secure as you drive. You have the color options of blue, red, orange and gray. The caddy is universal and fits leading brands such as Club Car, E-Z-GO, Yamaha and Icon. The installation is simple, just clip the caddy on the desired area of the cart.
---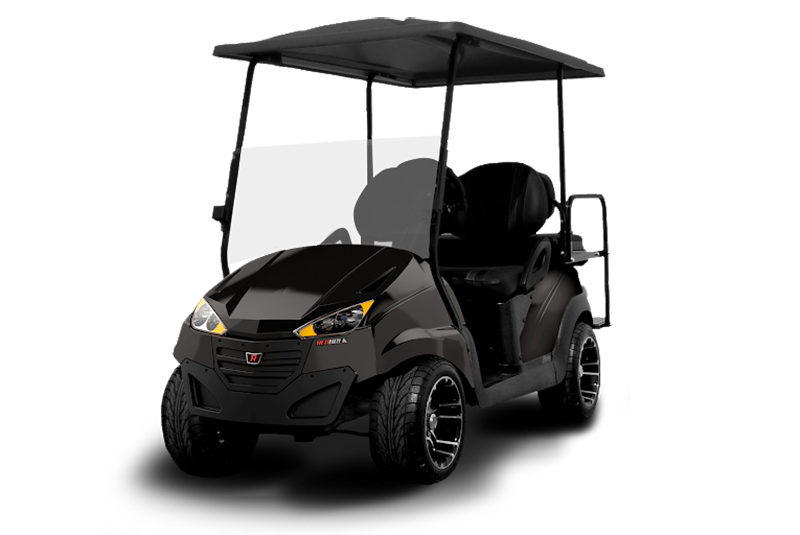 2. Redback Body Kit by Champroy Parts, available at champroyparts.com.
Champroy Parts makes installation as easy as "one, two, three" when you buy their body kit. A tutorial video made by the Champroy team will be sent to you upon purchase of the kit, helping you step-by-step as you install your own body-kit. The kit includes front and rear body kits (five pieces), a light kit including a voltage reducer, horn, flasher and wiring, and all the hardware needed for the installation.
---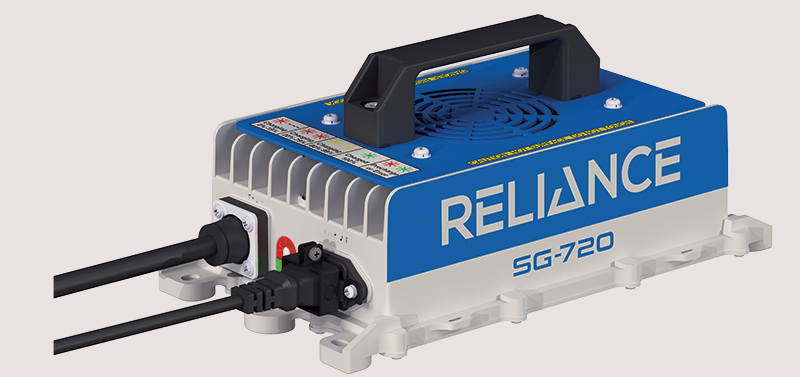 3. SG-720 High Frequency Charger by RELIANCE™, available at nivelparts.com.
The new RELIANCE™ SG-720 is a great alternative to OEM chargers. Its intelligent charge curve uses real-time data to most efficiently charge your PTV batteries. With its die cast aluminum body, the SG-720 is durable yet weighs only 7.5lb – less than half the weight of comparable OEM chargers. The integrated carry handle allows for easy transport, while the mounting tabs make mounting or hanging quick and easy.
---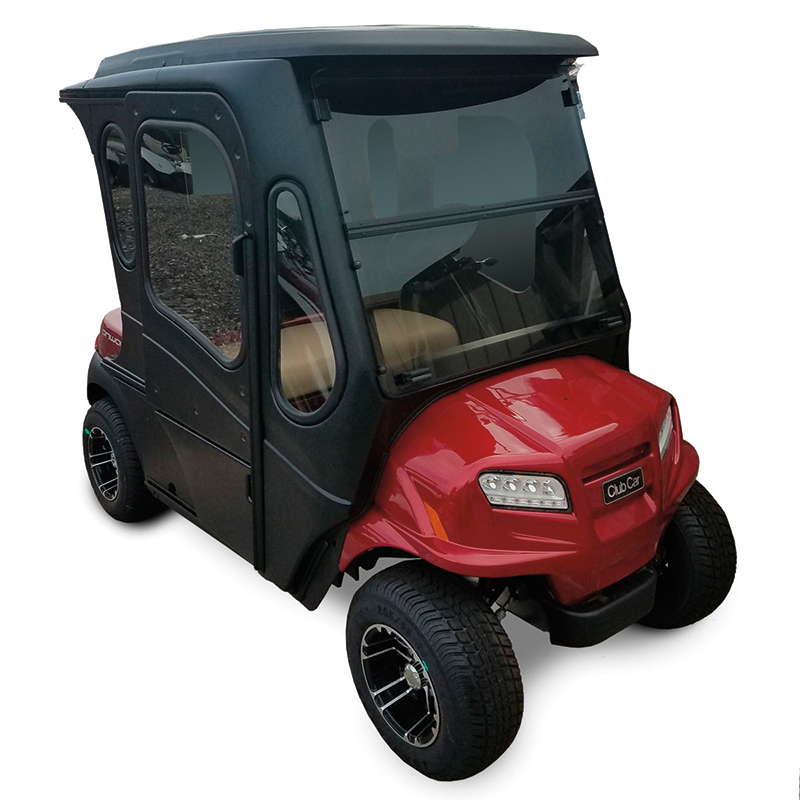 4. Club Car Precedent Enclosure by Sleekline, available at sleeklineenclosures.com
Keep yourself and your golf car protected from high winds, cold temperatures or heavy rain with this Club Car Precedent Enclosure. Adding this enclosure will extend your vehicle's use and increase its versatility. It fits most models of Club Car Precedent (gas and electric).
---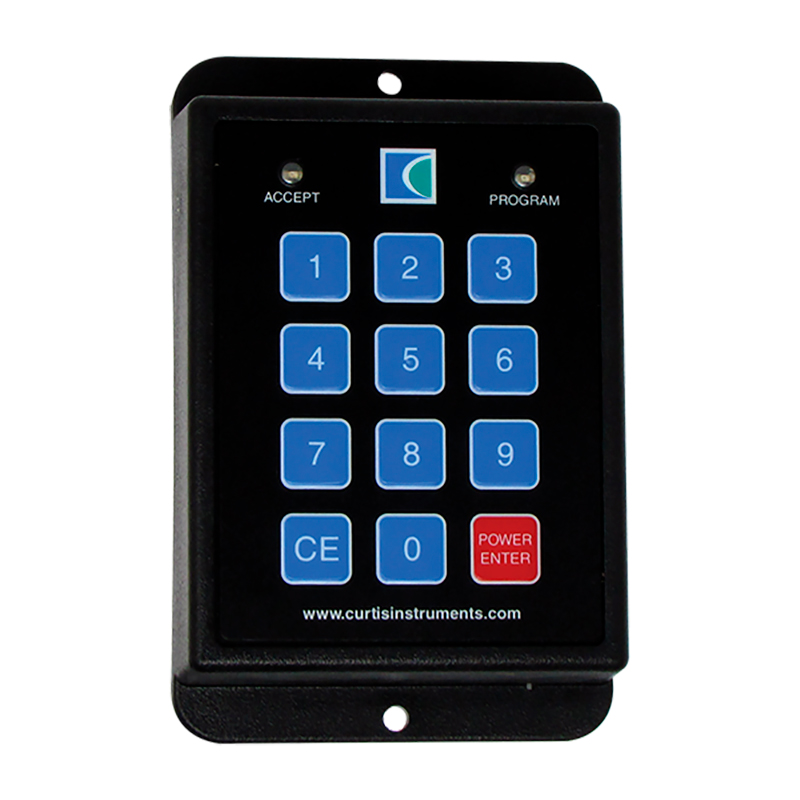 5. Curtis 12/120v Electric Code Switch by FSIP, available at shop.fsip.biz.
Protect your vehicle with the Electric Code Switch. This device helps to control who uses the machine and shows who was last to use it. It lets you create up to 99 individual access codes and a master code to access supervisor functions. When connected to the seat switch, this device automatically switches off the vehicle after three minutes of inactivity.
---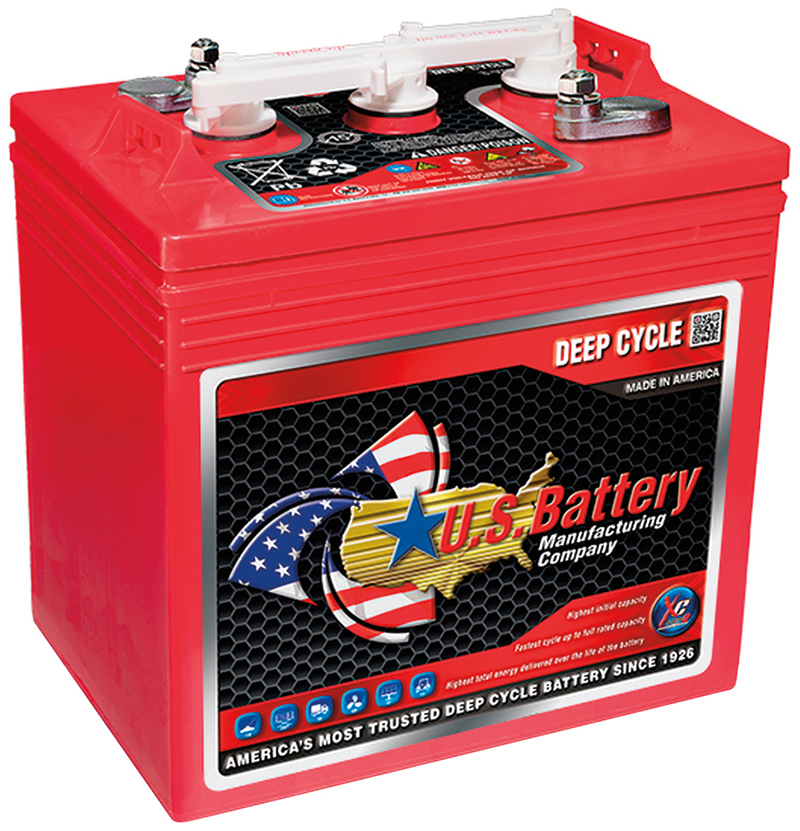 6. AGM Battery by U.S. Battery, available at usbattery.com.
New and improved AGM Deep-Cycle Batteries have increased longevity and are maintenance-free. The use of different materials assisted in the upgrades. The upgrades are thanks to the use of different materials. For example, the thick positive alloy grids help prevent corrosion and contribute to the battery cell structure. The carbon-enhanced negative active material improves charging and cycling performance. New 6V and 12V options are available due to popular demand.
---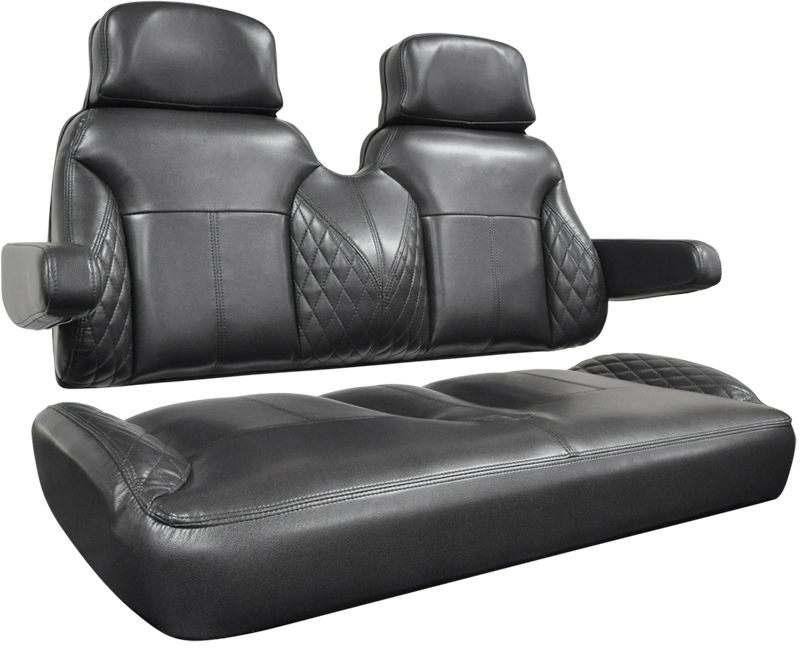 7. Suite Seats Luxury Edition by United Commercial Upholstery, available at ucuinc.com.
These seats were made to feel like a recliner. They are equipped with a foam package for a plush and comfortable feel. These seats are made with Ultraleather and are available in ebony, slate, cream, toffee and stone. Additional qualities include arm rests and spacious seating.
---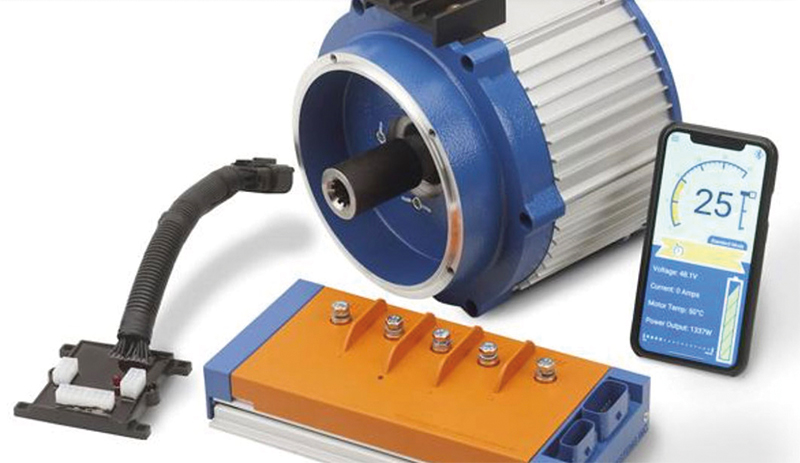 8. Teekon™ by SilverWolf™ Motors, available at silverwolfmotors.com.
Increase the speed of your ride by up to 56% with this rear-wheel-drive DC to AC motor conversion kit. Light-weight and easy to install, the power kit weighs 60% less than other kits on the market. Downloading their Bluetooth Smartphone App will unlock the ability to create individual profiles. The profiles allow you to control speed, driving range, acceleration and torque.
---

9. SoundExtreme SE18 by ECOXGEAR, available at ecoxgear.com.
This waterproof powersports amplified soundbar will have you listening to music wherever you go! It contains universal attachment points for attaching to boats, ATVs and other recreational vehicles. And don't worry about bringing it outside, because the SoundExtreme SE18 is mud-proof, sand-proof, shockproof and snow-proof. It includes RGB Party Lights and a white and red light bar. It reaches 300 watts at peak power.
---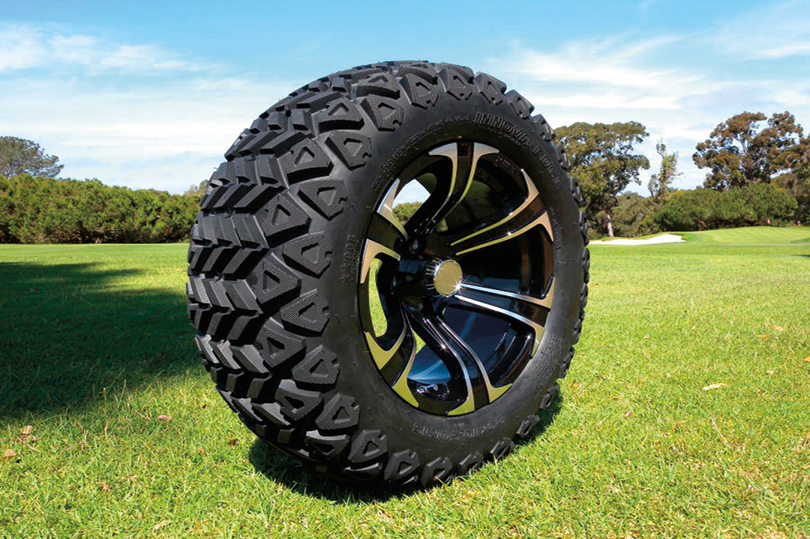 10. INNOVA Edge IA8028 by Achieva Tires, available at achievatire.com.
Looking for new high quality lifted golf cart tires? Well, look no further because the new Innova Edge IA8028 15″ lifted golf car tires are available now! It includes textured micro-knurling shoulder tread, which enhances the traction.
---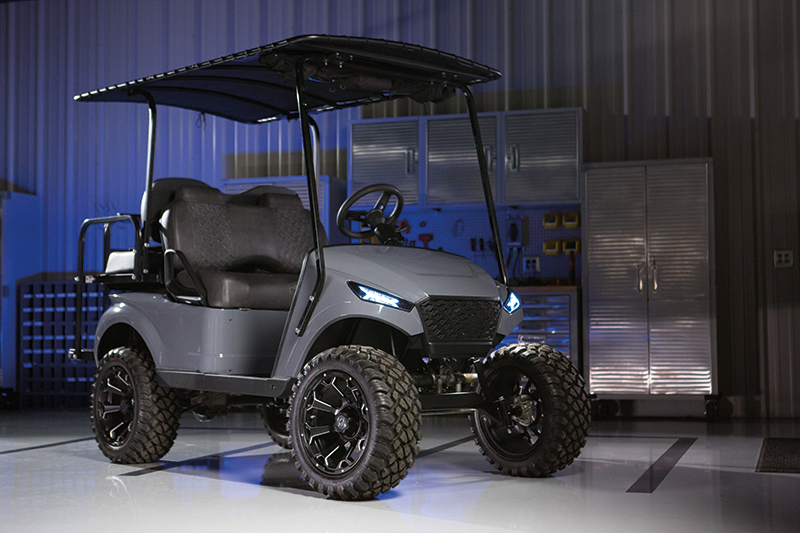 11. Topsail Canvas Sun Top by RedDot®, available at nivelparts.com.
The newest RedDot® canopy offering is a canvas sun top that offers a unique shade solution that will give any vehicle a custom look. The Topsail is perfectly suited for beach, community, and even commercial applications. Easy to ship and easy to install, the Topsail is the perfect shade solution for sun and fun.
---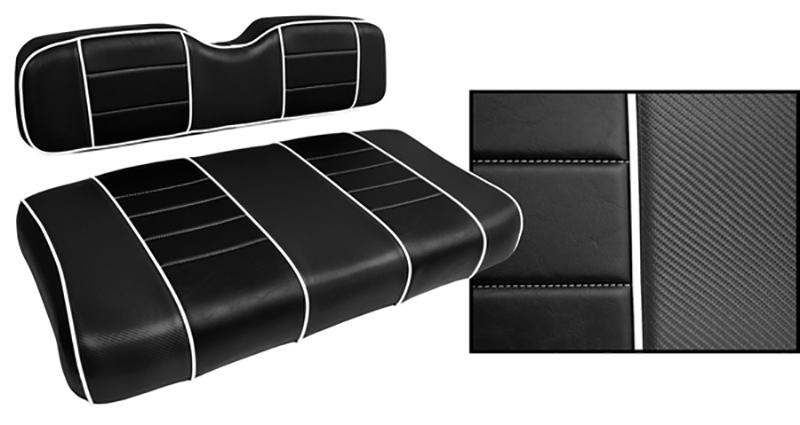 12. Express Covers by Lazy Life Seat and Covers available at lazylifeseat.com.
With 16 colors to choose from, these seat covers come with customizations. The interactive tool on the website allows you to preview piping and stitching color choices before selecting. The seat covers fit eight different carts. The front seat covers can be made for E-Z-GO TXT, E-Z-GO RXV, Club Car Precedent and Yamaha Drive. They also have rear flip over sets for Madjax Profit, Mr. Golf Eagle, Rt Gear Max 5 and AGC.
---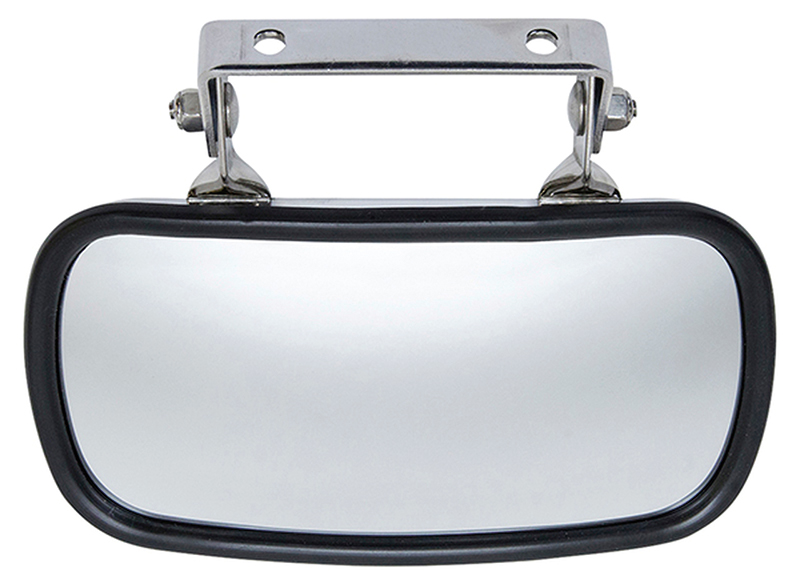 13. Universal 180 Degree Convex Roof Mount Mirror by Red Hawk, available at redhawk.golfcart.com.
This mirror offers a universal design with stainless steel backing. Measuring at 4″H × 8.5″W, it provides 180 degree rear view visibility. It mounts easily on the front canopy top.
---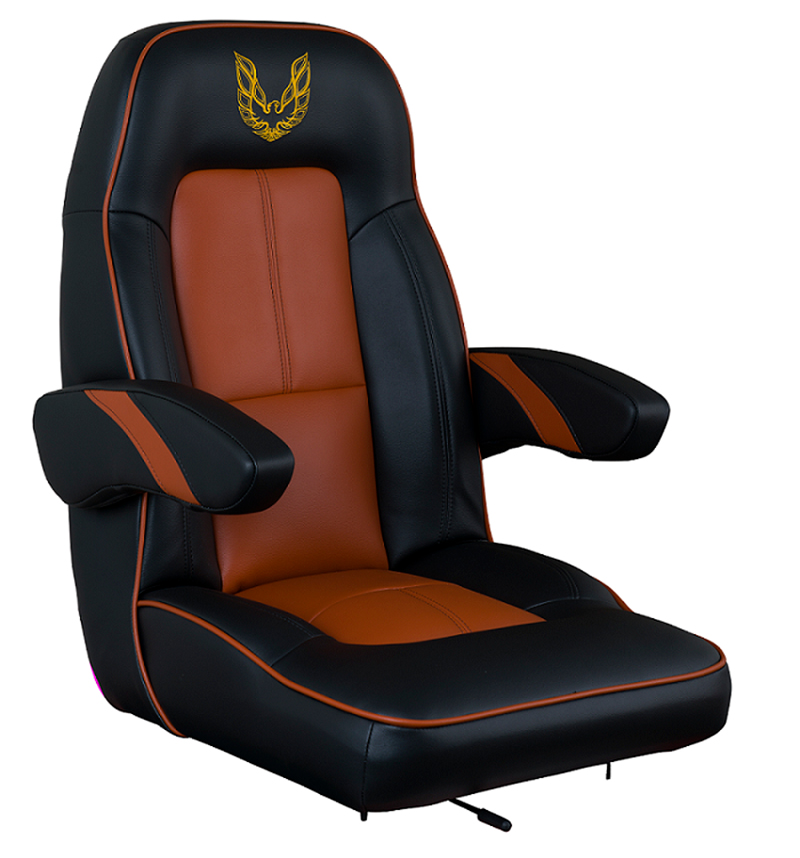 14. American Sportster Bucket with Piping Seats by El Tigre Golf Cart Seats, available at golfseats.com.
These seats are customizable with many different color options to choose from. Although the logo print is sold separately, the piping surrounding the Sportster Bucket adds to its fresh design. Other features include arm rests and slide/recline capabilities.
---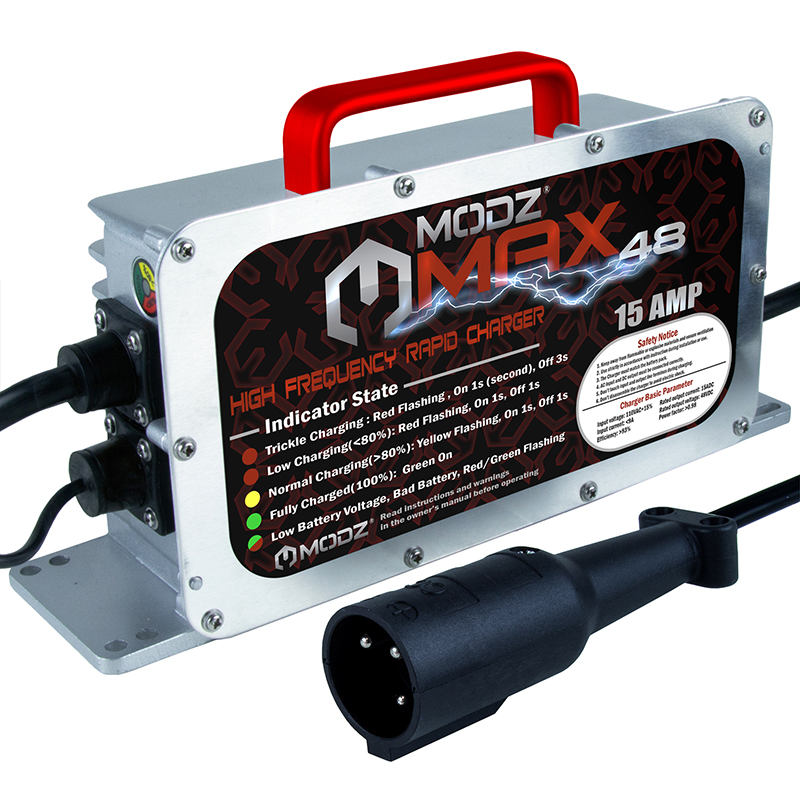 15. Max48 15 AMP Club Car Battery Charger for 48V Golf Cars by Modz, available at ridemodz.com.
This innovative battery charger uses industry leading technology to charge your golf car's batteries. It also allows you to plug in your golf car and leave it plugged in without fear of damaging your batteries over extended periods of time. Weighing only seven pounds, the MODZ Max48 can be easily transported with the convenient carry handle. And did we mention that it leaves a relatively small footprint as well?
---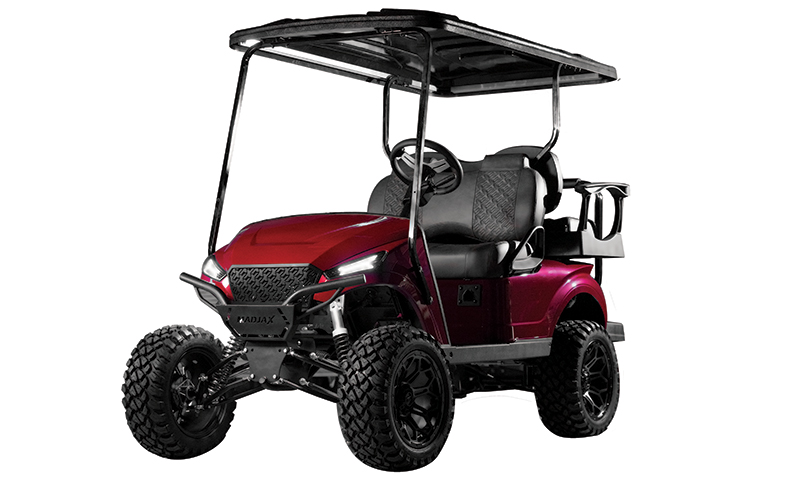 16. Storm Body Kit by MadJax®, available at nivelparts.com.
This automotive-style kit is available for E-Z-GO® TXTs, model years, 1994 and up. It is offered in nine introductory colors, with mold-in and premium painted options. This innovative kit is the first to feature flush mount LED headlights and taillights with all of the features of MadJax's Ultimate Plus Light Kits.
---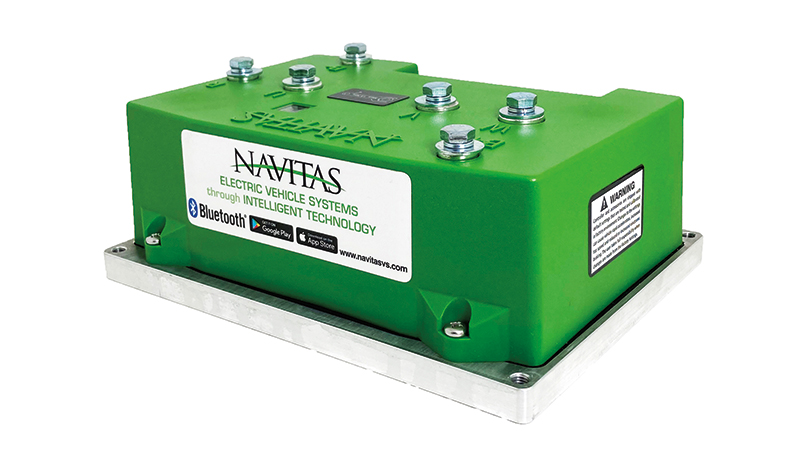 17. TAC2 440a Controller by Navitas Vehicle Systems, available at navitasvs.com.
This controller will improve the overall efficacy of your car with its many features. The On-The-Fly Programmer allows you to personalize your driving experience. Plus, you can adjust your top speed, braking, acceleration and battery driving range. You can also use the new Bluetooth feature to control everything from your phone. It also uses state-of-the-art Mosfet technology.
---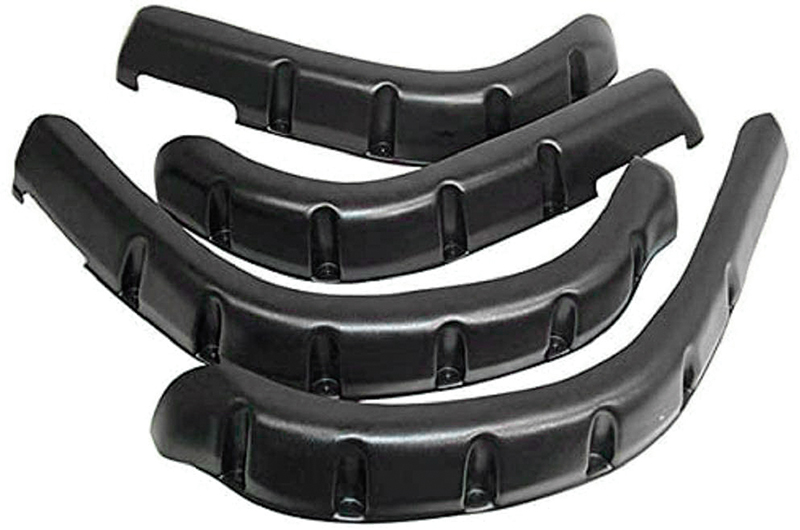 18. Fender Flare by RHOX, available at rhox.us.
Designed to fit Yamaha G14-G22, the RHOX Fender Flare protects cars and passengers from rocks, gravel, mud and other damaging debris that can be kicked up by oversized tires. It is made of durable, injection-molded black plastic with a textured finish. Each set includes (4) 3″ wide fender flares and black plastic mounting rivets.
---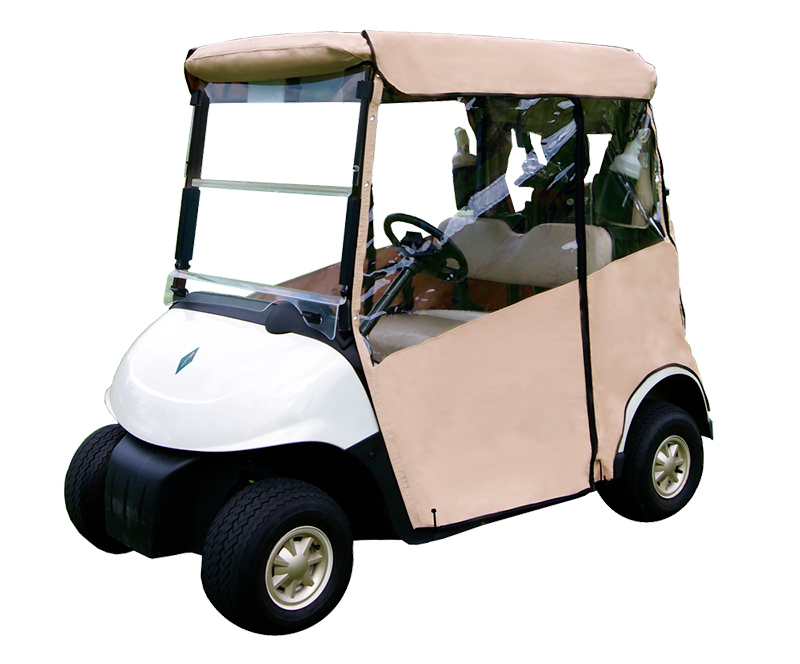 19. Three-Sided Fitted "Over the Top" Covers by DoorWorks Enclosures, available at doorworksenclosures.com.
This three-sided golf car cover is designed for almost all E-Z-GO, Club Car and Yamaha Golf Cars with golf set up, rear facing seat or utility box. It includes dual zipper access to enclose golf bags, clubs and sweater baskets. The curved zipper door openings allow for easier entry and exit from the cart. Choose from Marine Grade Vinyl or Sunbrella Canvas for your fabric.