Have you ever wondered what would make a low speed electric vehicle unique? Exciting? Truly iconic? Roy Williams, ICON® founder and visionary, has been figuring that out.
Consumers are always on the lookout for the next best upgrade, without breaking the bank. Dealers are always on the lookout for the next best way to meet that demand. Welcome to the future.
Interested dealers have been jumping on the opportunity to visit one of the many ICON production facilities across the nation. Here they experience from start to finish what makes this up and coming brand the ICONIC future of LSVs.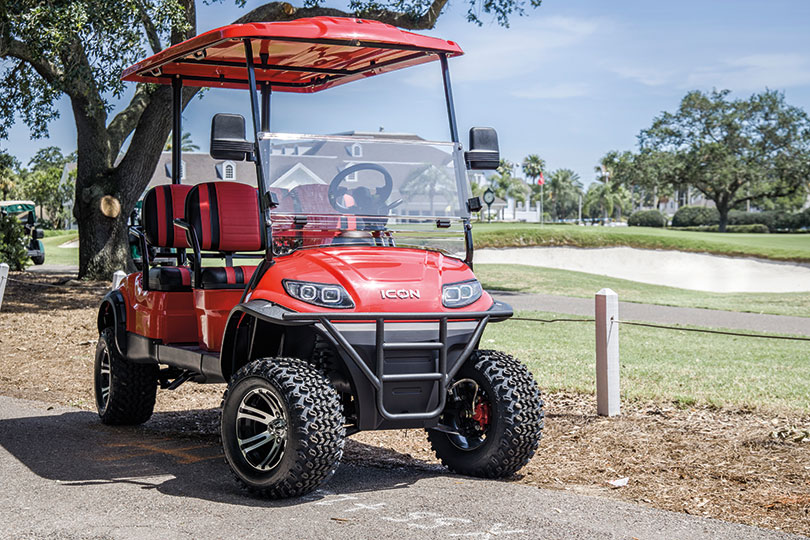 ICON's rise has been well documented in this publication and many others. As is already well known, ICON went from a little-known startup to the fourth largest manufacturer of golf cars in the United States in less than three years. Setting high bars, and actually reaching them, is nothing new for the ownership team behind ICON EV.
"ICONIC VALUE is our STANDARD," said Williams.
Williams notices every detail. Upping the ICON value further, every vehicle comes equipped with state-of-the-art AGM batteries.
"They're the best batteries in the world," said Williams, "no corrosion, sealed and maintenance-free, I am proud to power-up the experience for our customers."
With so many upgraded features that come standard, it's easy to see why this brand will continue to grow exponentially.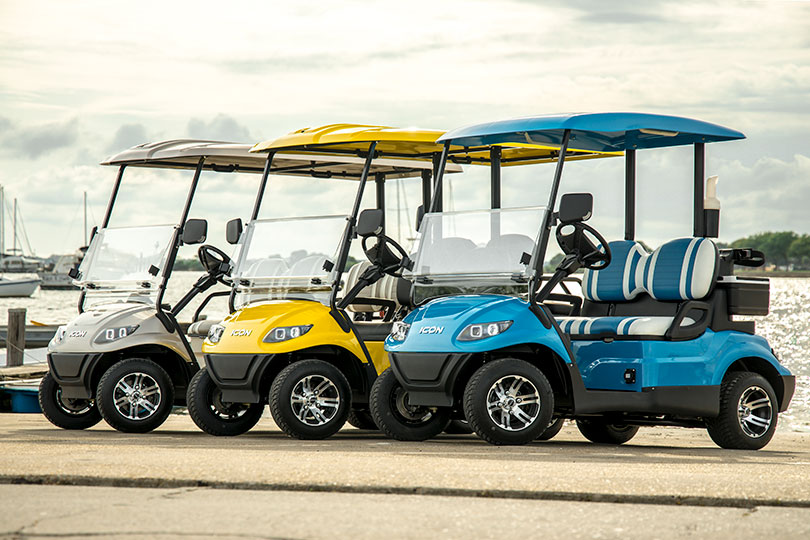 VALUE
ICON EV golf carts come fully loaded for significantly less than the price of a competitor's base model. Standard features include ICON® 450A controllers, a 5kW motor, sealed maintenance-free AGM batteries, 12″ aluminum wheels, 4-wheel disc brakes, powder coated tubular steel chassis, LED lights, turn signals, high-speed rear ends, durable front and rear bumpers, painted rooftops, horns, digital gauges, and more.
SIMPLICITY
ICON LSVs charging cords can plug-in to any standard 110V outlet to charge, making an electric vehicle accessible to any consumer.
CHOICES
In addition to ICON's wide array of models, they offer thirteen different colors and five different seat combinations to allow the user to find what fits their family!
PEACE OF MIND
ICON Proudly stands behind every vehicle that they sell with a two-year manufacturer's warranty. ICON is in the process of digitally upgrading accessibility and communication methods, which will make the dealer experience even better.
"Our dealers' and our customers' confidence does mean everything to our brand and our leadership team. Let's face it, buying a golf cart is an investment, so working with a company that makes you feel secure with your purchase is important," said Williams.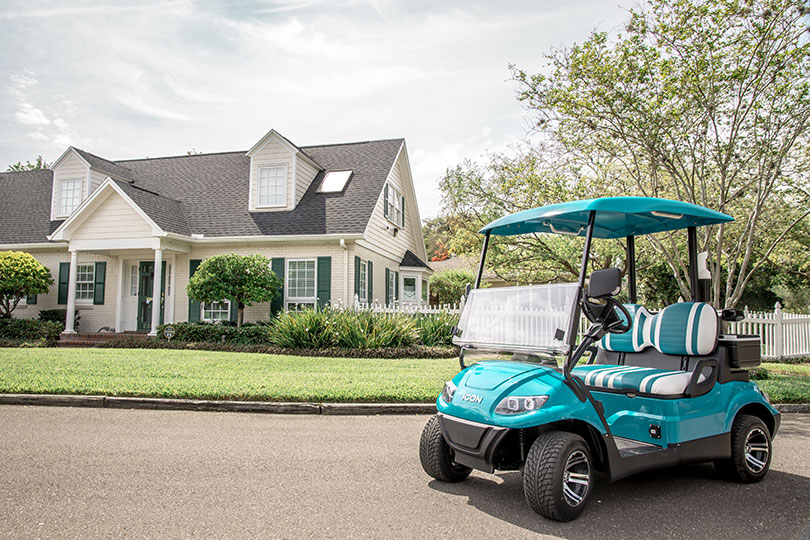 OPPORTUNITY
Are you ready to see what your dealership has been missing?
More expansion is on the horizon with their brand new production facility opening June 1st in Charlotte, NC. This will serve as the hub for dealers all the way up to Maine.
Plus, another brand new factory is opening just north of Scottsdale, AZ in Q4 of this year for greater west coast support to their dealers. Those interested in joining the team should send their resumes to Lana@IconEV.com.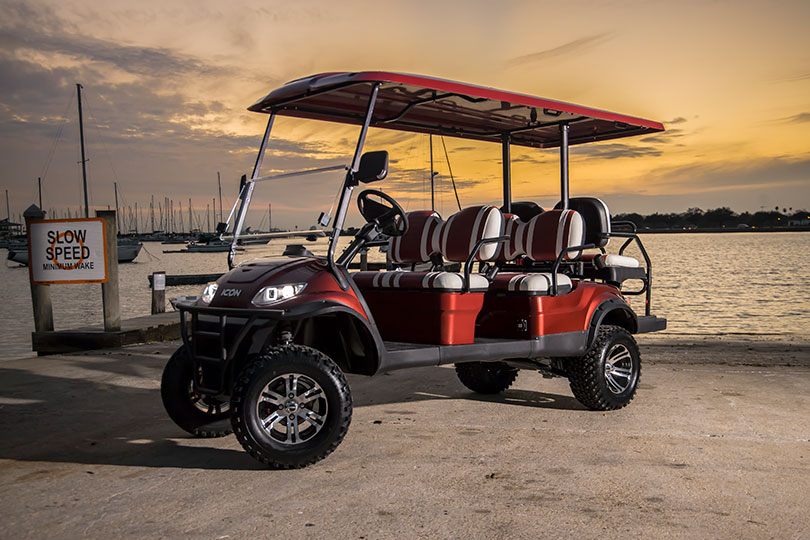 FREE TRAVEL ALERT
Dealer representative and a guest are invited to meet the ICON team and visit one of the production facilities for a personal tour. There you will be able to examine assembly processes, assess QC, and discuss pricing and delivery options.
ICON will provide airfare for two and hotel accommodations. To book your complimentary factory tour and getaway, simply call Roy Williams directly at (813) 335-0015.
"Come and meet your new partner in person to see how ICONIC we really are," said Williams. "Let's build our partnership. See why we are who we are, and why ICON is quickly becoming a household name!"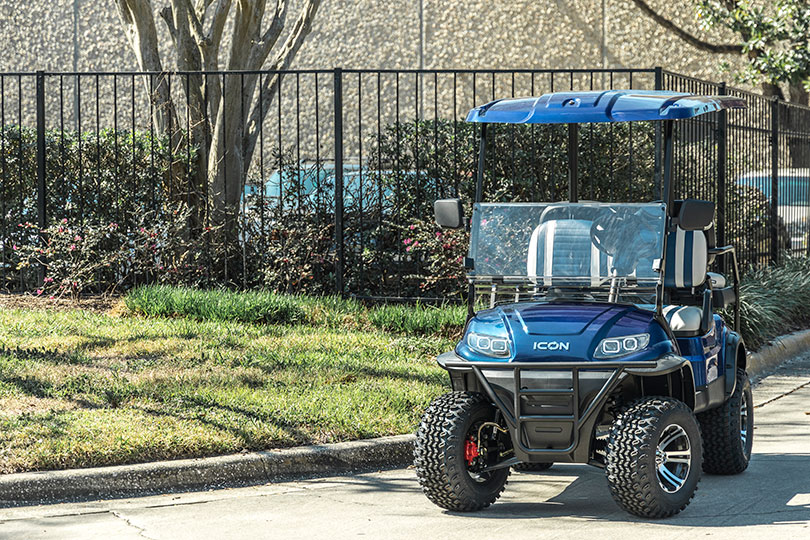 Like any successful business, product diversification is essential and Williams has been ahead of that curve. Exciting news with the ICON family of brands is forthcoming, but you'll have to stay tuned to our next issue of GCN.
One thing we can safely say is that in typical ICON fashion… it's totally ICONIC.