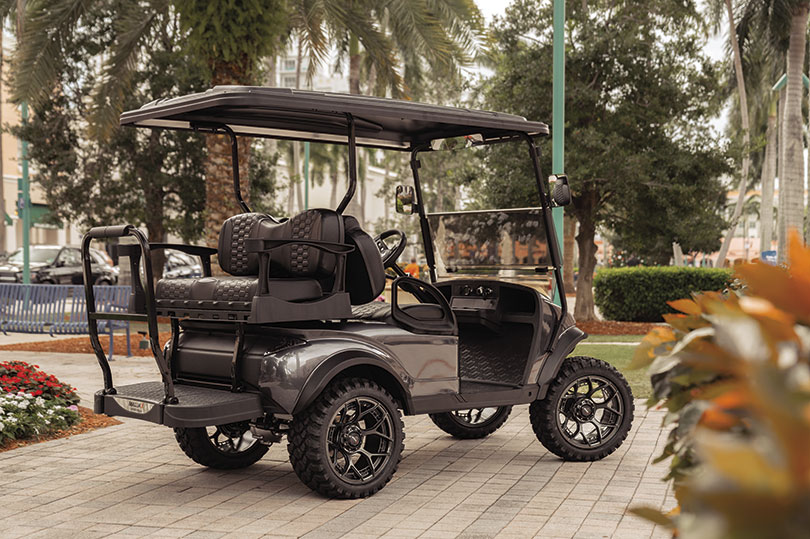 MadJax are getting on the road themselves.
The teams at Nivel and MadJax have always been known for taking golf cars and making them into more stylish, luxury vehicles, they're branching out. They can add quality body kits and accessories to other golf cars – now all that arrives from the beginning thanks to MadJax' new golf car line, the X Series.
Nivel and Madjax historically have had a focus on aftermarket golf car parts and accessories. Comsumers have long bought golf cars from major brands and then used Madjax parts and accessories to trick it out – give it that extra comfort and luxury. Anything from body kits, to steering wheels to cooler attachment to golf bag holders and so much more – MadJax has long been a go-to for after-market accessories and additions. But with the rising demand for golf cars, MadJax and parent company Nivel saw an opportunity to go one better and offer a full golf car.
MadJax sees this as a natural evolution. A MadJax golf car naturally includes the premium parts and accessories MadJax is associated with. Dealer interest has been big. MadJax sold their first cars in a December soft launch before the big rollout at January's PGA Show. For MadJax and Nivel, this is a major, game-changing initiative with a tremendous amount of investment and research. However they're not taking their eye off the core parts and accessories business. And this new offer dovetails perfectly with what they've always been known for. They've always made stylish body kits. Now the car just comes standard with that body kit. It also comes standard with an industry-leading three-year warranty. And it comes with parts and accessories that are in stock and backed by Nivel's and MadJax' second-to-none customer service. As good as MadJax customer service has always been, it will be even easier and more seamless to to get those parts and accessories when they're for a vehicle made in-house.