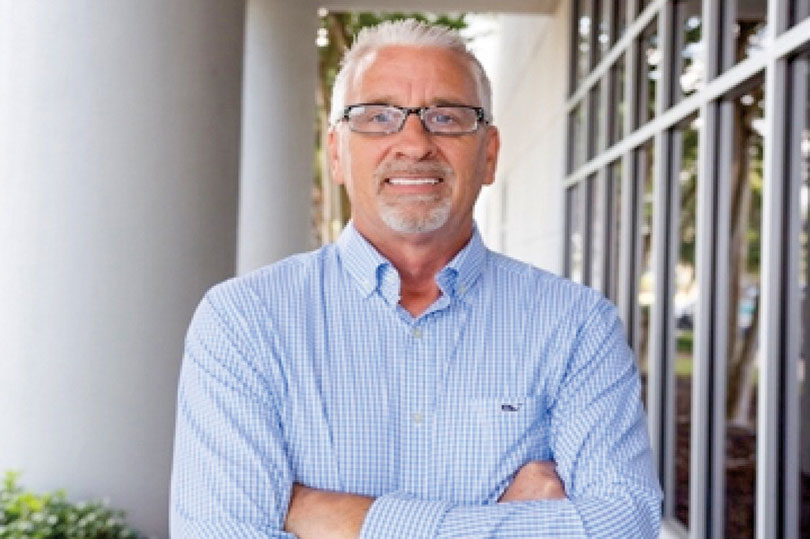 For more than 30 years, JB Johnson met golf car dealers, figured out problems – and built relationships.
When JB Johnson first went to work for Nivel, he went to work for a small outfit – then a Cushman dealer in North Miami. He worked in sales for a company with no more than 25 employees.
As he retires just more than three decades later, he talks about gratitude for the company he grew with. But he talks most about the people he met out in the world. "I learned a lot from the market and the dealers," he said.
Johnson, who retires as regional sales manager, says that it was through working closely with dealers – listening to their needs, not trying to fit one-size-fits-all solutions – that Nivel grew in the way it did.
"The dealers helped us template what Nivel was going to be," he says. "I was the catalyst for that, I was the voice and face of Nivel for many years. I was a haberdasher, if you will. I would outfit these dealers with what I knew Nivel had the capability of. This is when I came back and taught the company that one size doesn't fit all."
Benny Knox, Nivel's vice president of PTV, remembered Johnson's unique way with words. "I love what we call 'JBism's', he said. "He always has a witty way to explain situations in an animated way." He also said JB "was the face of Nivel and built the path for dealers to have choices when it comes to aftermarket accessories. His passion to help dealers created a lifetime of friendships and family, not just customers. He shaped Nivel to be the leader in parts and accessories it is today. His relationships and knowledge kept Nivel at the top. Honored to have worked alongside him and appreciate the time I have with him."
Dealers he worked with over the years agree with that assessment – and say he became a trusted advisor and friend.
"He's always been there for me and if I ever got into an issue where we needed a part or were trying something new, he was always jumping in and wanting to help," said Russell Graham of Graham Golf Cars, Myrtle Beach, SC. "I leaned on JB all the time. In the golf cart business, it changes drastically in a short amount of time. New products come out, new ideas."
Johnson had all the information, and he was straightforward with it. "For years, what you saw is what you got," Graham says. "He didn't try to tell you anything that he couldn't do. The thing about JB is that he didn't come across as a salesman."
For Pete Marley of Pete's Golf Cars in Oak Island, NC, Johnson mixed technical know-how with old fashioned care. Marley's not one for receiving information via text; with his old friend JB, he could always count on a phone call.
"JB is the type of person, if you ask him a question, he wouldn't say I'll get back to you in a day or two, he'd say I'll find you an answer now," he said. "He would pick up the phone and talk to you like he was your brother."
Johnson said he was fortunate that Nivel put him through training and classes to pick up some of the skills he didn't have. It allowed him to have the knowledge to bridge the gap between company and customer. But, he says, if he looked like the hero, he wasn't. He was just the catalyst.
"Some people think 'oh, I did this and I did that," he said. "But I look back and say I didn't do a damn thing. I did what I knew to do but in reality, the company built me. I didn't build that company. It really leant me a tenure of building relationships around the country and around the globe. It was almost like a race car driver, a NASCAR driver. I'm a good race car driver, but Nivel produced a race car from hell. It made my job a lot easier.
"We just did the right things, and I was the messenger to go out and sell that narrative of that policy or that program, gain their trust and do it repeatedly for so many years." Sometimes, he said, people would assume he was the owner of Nivel. He was an investment partner, granted, but he wouldn't say that. He'd say he works there. Just a team player – a company guy.
"That company built me, and it built good business relationships we have," he said. "I have true friends that I built over 30 years I could go almost any state and I walk in and know that guy. I knew the granddaddy that built the place, and now I know the grandson."
For this, he got paid. But it was about more than the paycheck. "The money was important," he said, "but I always did it to help the dealer. I didn't make it about myself, I made it about the dealer."
For their part, the dealers agree.
"He didn't care whether you bought 5 dollars or 5 million dollars," Pete Marley said. "I would consider JB a brother. He's the kind of man who would give you the shirt off his back, and that is few and far between."
Johnson has got one goal – a vision, if you will – for his future years. He'd like God to let him live to be 90, get his own golf car, look down and see all the brands he worked with over the years.
"It would be a feeling," he said, "like Henry Ford coming back today and riding in a five-liter Mustang."
But he'd be lying if he said he won't miss it. Getting out into the country, meeting dealers – friends. Figuring out what they need and how he can make it happen. That's the work he loved.
"It will take me years to get off of that," he said. "Unfortunately, Nivel has no antidote for me. I'm addicted. My whole life, I was Nivel. My whole life."