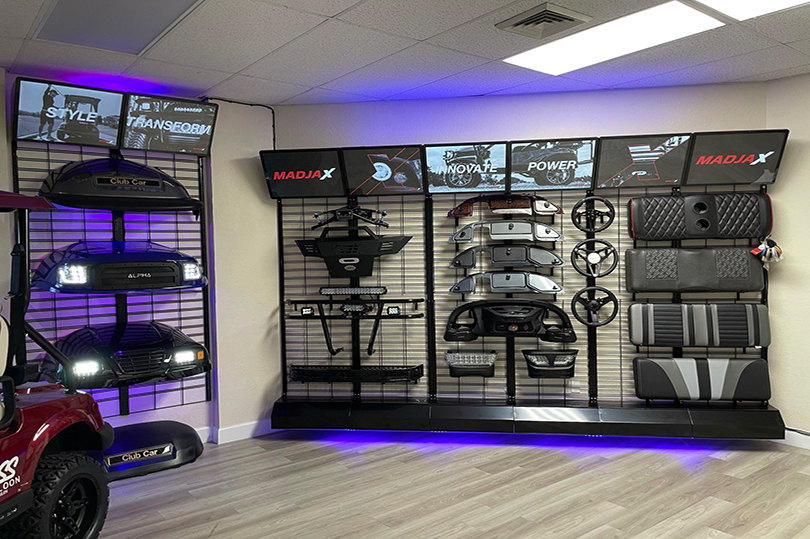 Pompano Beach, Florida
GCN: What year did your golf car dealership open? Are you the original owner?
BMK: Our dealership officially opened as a golf cart shop about 3 years ago. Before this we did boats. Brandon Kurz is the original owner.
GCN: Tell us a little bit about your business. Do you specialize in any brands? Custom work? Other services?
BMK: Our business specializes in custom refurbished Club Car builds tailored to our customers' needs and specifications. We custom build our Club Cars in-house. Our customers come in and get a one-of-a-kind experience building their dream cart with one of our qualified product specialists. The sky's the limit! We are also a dealer for Tomberlin, which is our luxury vehicle line. Our Tomberlin golf carts come fully loaded and street legal. Our other brand we carry is Bintelli, which is fully loaded and street legal as well. Bintelli has been our fastest growing cart in sales as they sit at a price point that cannot be beat for the product!
BMK Golf Carts also offers full service on Club Car, Tomberlin, and Bintelli golf carts. Our highly qualified technicians are the best at diagnosing issues and providing quick turnaround times! Pick up and delivery services are available!
GCN: What are the biggest changes you've seen in your time in the industry?
BMK: The biggest change we have seen since we began in the golf cart industry 3 years ago is the demand for golf carts. Since COVID began last year, our business has spiked as the demand for golf carts has skyrocketed. Our industry also faces the challenges everyone is facing which is the extensive back order of parts which poses challenges for us as a business for our custom builds.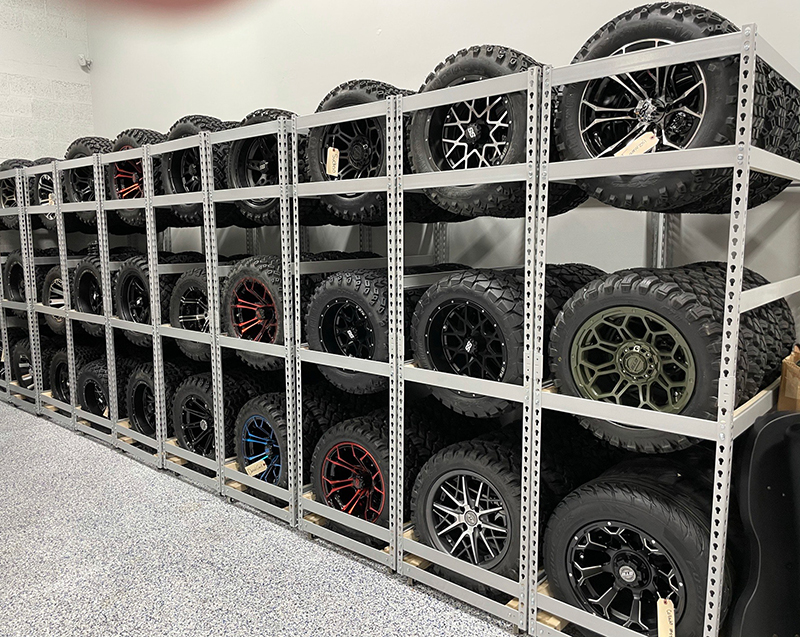 GCN: What's your favorite aspect of the business?
BMK: The favorite aspect of the business is making our customers happy by providing them with high quality golf carts to build memories to last a lifetime.
GCN: Describe your average customer.
BMK: Our average customer is usually a family-oriented individual looking for a golf cart to enjoy with their family. Our customers enjoy riding around communities, going to dinner, picking up their children from school and enjoying family time while riding on their golf carts.
GCN: If there was one thing you'd want major golf car companies to know about dealers, what would it be?
BMK: Our major vendors provide us with all the parts we need to effectively run our company and produce products for our customers. We greatly appreciate all our distributors and thrive on effective communication to ensure timely delivery of our golf carts to our valued customers. Our vendors make this all possible! Dealers are vendors' major source of income; without us dealers, vendors would have no one to sell products to. We all depend on one another and the relationships we build with each other.