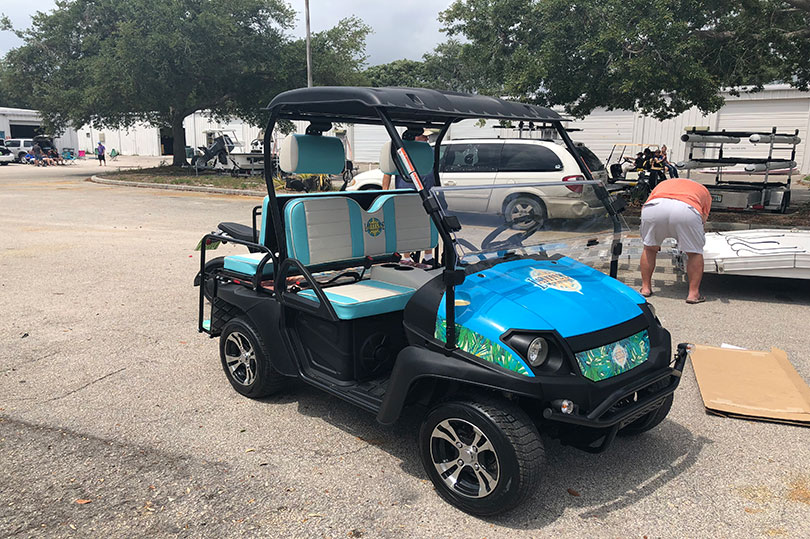 Vero Beach, Florida
GCN: What year did your golf car dealership open? Are you the original owner?
Tim Burklew of Golf Carts of Vero Beach: We opened in June of 2012, My wife Anna and I are the creators and original owners.
GCN: Tell us a little bit about your business. Do you specialize in any brands? Custom work? Other services?
GCVB: We started off as a basic custom golf cart shop for Vero Beach area, we thought. After a few years, we started getting calls from people all over the state of Florida. Then people from other states started calling us. And finally, the call of all calls – the Vice President of NBC wanted to talk to us about a custom cart and some creative ideas) to build a cart for them to give away at the Phoenix Open. It would be the talk of the event and stationed at the main entry. We were told hundreds of thousands will see the cart. The Golf Channel got the news and posted videos of them driving the cart around the golf course. Well halfway through the build, they loved it so much they asked for a duplicate so they can use to travel to events all over the country. From that event, we have built custom carts for people all over the USA and now England. What an honor. Some high-end carts to name: a Bentley sold in Denver, 57 Chevys in several states, Impalas, Hummers, Cadillacs, Bugattis, A Woody, Chevy trucks, Fords and so many others.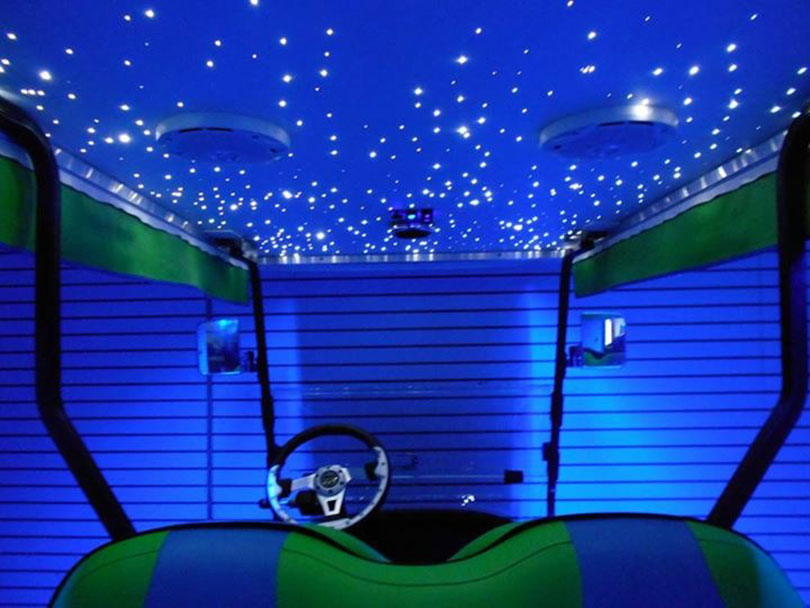 GCN: What are the biggest changes you've seen in your time in the industry?
GCVB: The biggest changes have come from Covid – driving prices out of sight with a huge demand. Technology has also come a long way and gas carts are now all fuel injected and battery powered carts doing 25 mph – 40 mph with ease.
GCN: What's your favorite aspect of the business?
GCVB: My favorite aspect it sitting with a customer and creating their dream cart. Two in the pipeline are a Rolls Royce and a 60 Willies Jeep along with two of the 57 Chevy carts.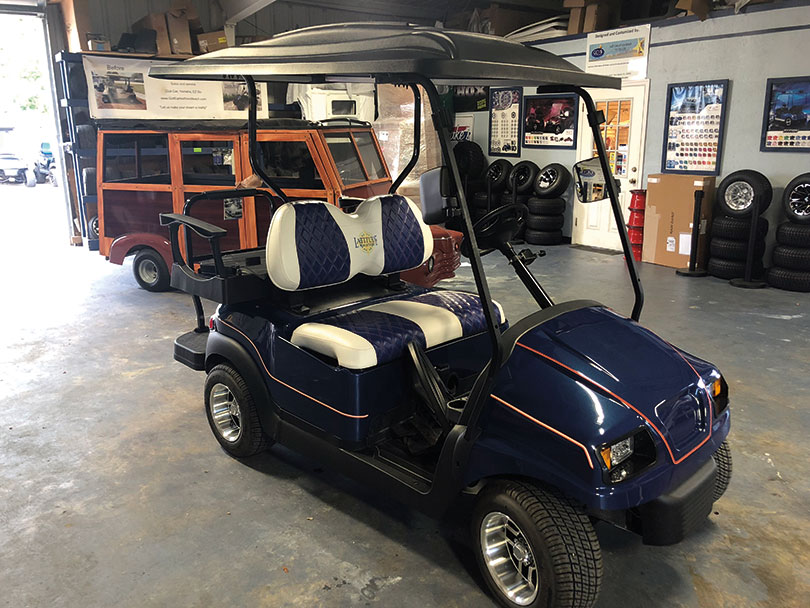 GCN: Describe your average customer.
GCVB: The average customer is the person who wants something for THEM not just the basic cart. From a Wetsound sound bar for music to LED lights and some custom seats.
GCN: If there was one thing you'd want major golf car companies to know about dealers, what would it be?
GCVB: The biggest issue is only allowing one dealer in each town like Club Car or E-Z-GO or Yamaha. I get calls every week to buy new Club Cars from us and I have to turn them down because the local dealer burned bridges with so many local people. The small dealers are who made the big dealers over many years. Now the small dealers pay the highest prices for carts and parts.